Dwight Howard to seek second opinion on back, out Friday vs. Hawks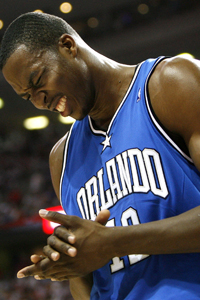 Dwight Howard will miss yet another game with lingering back issues Friday.
(Getty Images)
The
Orlando Sentinel
reports that Magic All-Star center Dwight Howard is visiting Los Angeles for a second opinion on a lingering back injury that has kept him out of four of the past six games for Orlando. Howard will miss Friday night's game against Atlanta as well. From the
Sentinel:
Dwight Howard has gone to Los Angeles with a member of the Orlando Magic's medical staff to get a second opinion on his aching back and will not play when the team hosts the Atlanta Hawks tonight at Amway Center, team spokesman Joel Glass said.

Howard and coach Stan Van Gundy insisted as recently as Thursday afternoon that Howard has no structural issue with his back, such as a bulging disk. Van Gundy said that an MRI revealed no potentially long-term problems.

"There's nothing I can really do but continue to stay on it, stretch, get massages, do whatever I can," Howard said Thursday afternoon. "I'm just trying not to let it happen again, but I don't want to go out there till I'm 100 percent. My team needs me playing 100 percent and not out there playing 60 or 70 percent."
via Dwight Howard injury update: Dwight Howard goes to Los Angeles to get a second opinion on his sore back - Orlando Sentinel.

Missing Howard has huge implications for the Magic, both now and in the short-term future. The Magic are obviously in trouble without Howard, their best player and franchise focal point. Without him, their chances of winning any game are greatly in jeopardy.

The bigger concern here is that the pain is such that Howard is visiting a specialist for a second opinion. That would indicate concerns of more long-term problems, despite the absence of a structural issue. If Howard is hampered going into the playoffs, a postseason the Magic desperately need to make a run in in order to convince Howard to stay, things could go from bad to disastrous quickly.

In the meantime, Daniel Orton will get minutes, so you can say you saw that happen.

The Magic are currently four games ahead of the dreaded seventh spot in the East and need to maintain pace to avoid a first-round series against the Heat or Bulls.