Suns targeting Jamal Crawford this summer?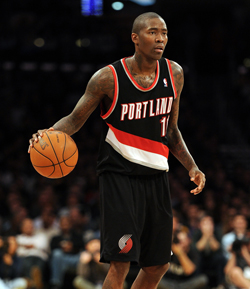 Steve Nash has already made things pretty clear. If you want to keep me, you better make this team better.
So with cap flexibility in their pocket for the summer, the Suns are clearly trying to circle their targets. One being Jamal Crawford,
according to CSNNW
:
Portland Trail Blazers guard Jamal Crawford will be courted intensely by the Phoenix Suns, a source within the organization tells CSNNW.com.

"Aside from Steve (Nash), he's (Crawford) high if not the top free agent priority on their list," the source said. "He would fill a need at the two-guard position and he knows they want him."
The Blazers were in Phoenix Monday night and Suns broadcast John Bloom tweeted this:
"Jamal Crawford just told EJ on press row and Alvin Gentry on the sidelines that he 'needs to be here in Phoenix' w/ Blazer teammates nearby."
Crawford is basically just trooping out the season with the Blazers. He's a lame duck player that has no intention of staying with the club. He has a player option for next season but obviously won't be exercising that.
So he's already got his eye on the Suns and evidently, the feeling is mutual. Phoenix needs more scoring help alongside Nash. The roster has just sort of plodded along lately, without much talent or punch to be excited about. They win enough because of the brilliance of Nash, but if there is going to be any steps forward toward the playoffs or more, better players need to be brought in.
You're looking at a situation where Crawford fills a need, but is he really going to be enough to put the Suns back on track? Enough to make Nash say, "Yeah, I want to stay here?"
The Suns have work to do. That roster needs to improve and the clock is ticking. Crawford would be a decent start, but that's not enough.