Report: Hawks C Al Horford waffles on playoff availability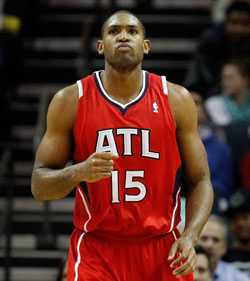 Al Horford isn't ready to return to the court just yet.
(Getty Images)
Pump the brakes on the playoff comeback talk.
Atlanta Hawks All-Star center Al Horford said on Monday that he doesn't anticipate being ready for the 2012 NBA Playoffs. Yahoo Sports
reported his initial reservations
on Monday morning.
"I don't feel like it is realistic that I can play for the playoffs," Horford said. "Obviously, if we advance and start going we will see. But as of right now the way I feel I think I am out for the playoffs."
Later Monday
, Yahoo reported that Horford had a follow-up appointment with a doctor and now feels "more confident" of a possible return, with a playing time target of "about 15 minutes per game" during the first round of the 2012 NBA playoffs, which begin this weekend.
Last week, Horford was
cleared for contact
after
undergoing surgery
on a torn left pectoral muscle back in January. His initial recovery timeline was 3-4 months. Horford just passed the three month mark.
The Hawks have just two regular season games remaining: home games against the Los Angeles Clippers on Tuesday and the Dallas Mavericks on Thursday. The Hawks currently hold a record of 38-26 and reside in the Eastern Conference's No. 5 seed. The Hawks will face the Boston Celtics in the first round.
Horford, 25, was averaging 12.4 points, 7.0 rebounds and 2.2 assists per game prior to his injury.