Jeremy Lin has swelling in his knee, still three weeks away from returning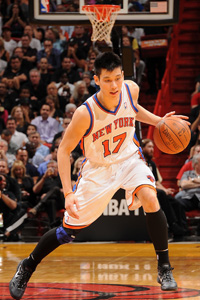 Jeremy Lin had aspirations of maybe returning to the Knicks for Round 1 of the playoffs. That's not happening. And Round 2 -- if the Knicks make it that far -- isn't a given either.
According to the New York Post
, Lin is still three weeks away from returning to the floor. At least.
Jeremy Lin, who made the Knicks' road trip, tweeted he jogged for the first time Sunday since knee surgery three weeks ago. But people familiar with the situation said he's at least three weeks away and definitely will miss Round 1.

Because Lin had a "lateral'' meniscus tear in his knee, it takes much longer to rehab than if it was a "medial'' tear, according a person with knowledge of Lin's situation. The Knicks originally did not disclose whether it was "medial'' or "lateral''.

Lin hoped to beat the six-week timetable, but that isn't happening as his knee swelled up after surgery.