Too much loyalty? Wizards bring back Grunfeld as GM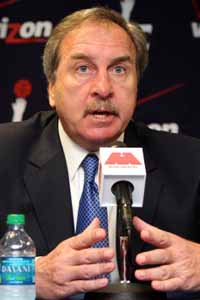 Ernie Grunfeld re-signed with the Wizards for two more years.
(Getty Images)
My first thought when I read that
Ernie Grunfeld had been re-signed
as
Wizards
GM for two years was that the Memphis Grizzlies are really good.
Let me explain.
The Wizards have been a disaster under Grunfeld. When the 2009-2010 Wizards were blown apart in the wake of Gilbert Arenas' gun scandal, the team attempted to rebuild. Instead, they headed in reverse dramatically, committing to a flawed core of
Andray Blatche
, Nick Young, JaVale McGee, and then adding
John Wall
to try and tie it all together. Unfortunately they had Flip Saunders, a veteran's coach on board and, well, that core had the collective basketball IQ of a golden reriever. And not Air Bud.
So they've been awful, John Wall hasn't progressed, Flip Saunders was fired, and the Wizards are pretty much the second worst team in the league.
Naturally, they feel this is a good time to go all in with the current architect.
And typically, I'd get out the flamethrower and start going to town on the Wizards for bringing back the guy who put this train wreck on the tracks. But then, you think about Chris Wallace.
Three years ago, Chris Wallace was considered a joke by media and bloggers. Having failed in Boston, he went to Memphis and immediately was forced to trade Pau Gasol for what looked like a lunchbox full of hot garbage, the team seemed completely without direction or identity.
And then a funny thing happened.
The Grizzlies got good.
Rudy Gay developed, Marc Gasol showed up and blew everyone away, then lost a bunch of weight and got better. They gambled on Zach Randolph and he became an All-Star. Tony Allen became a defensive player of the year candidate. Mike Conley not only is anything but a franchise killer (what moron wrote that?) but he's a leader who anchors the offense. They have gotten significant contributions from reserves like Darrell Arthur, Marreese Speights, and Quincy Pondexter. The team is deep, versatile, and well-constructed. To be honest, Wallace has done a masterful job despite a number of serious challenges.
So Chris Wallace worked out.
The question for the Wizards is whether Grunfeld's first nine years are the product of bad luck and unavoidable events, or if his inability to swiftly move forward reflects a lack of vision and/or exectuion. Wallace's story isn't exactly a replicable model. For every Chris Wallace there are ten GM's whose records were bad because they were just bad. The downfall of the Butler-Arenas-Jamison team was not on Grunfeld, it was on Arenas' health and individual mistakes in the gun saga.
But the downfall of the team the past two years is more on talent evaluation and roster construction.
Owner Ted Leonsis
elected to reward loyalty with loyalty
. The Wizards aren't headed in a new direction, they're staying the course... that they started on two months ago after the last new direction they started two years ago.
It's not a bad approach in business. But the next two years will be an indication of whether things can change that quickly in the NBA, or if some patterns should be used as warnings.