Antawn Jamison says he's ready to move on from Cavaliers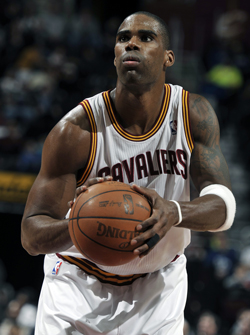 Hey, at least he's didn't hold a one-hour special to tell you he's leaving, Cleveland.
Too soon?
Forward
Antawn Jamison
has played with the
Cavaliers
the past two seasons, but as an unrestricted free agent next year and the Cavs trying to get younger as they rebuild, he sees the writing on the wall. His time in Cleveland is all but over.
Via the News-Herald
:
"I thank the organization. I enjoyed playing with Mr. (Dan) Gilbert, the training staff and the coaching staff. It was fun. I've enjoyed it. I think we both have (made up our mind)," Jamison said. "It's time for me to move on. I don't know what the future holds. I have a good feeling this is my last home game and tomorrow my last game with the Cavs in general. I think it's on the wall. I wish these guys great luck."
Jamison, 35, said he would like to play for a contender next season, though he's also mentioned playing for the Bobcats, his hometown team. (Jamison played college basketball at North Carolina.)
"I've had a lot of individual accolades. That's the only thing that drives me now. My mindframe, hopefully, chase it for the next two years. The only thing left for me to do is have my last name associated with a champion," said Jamison.
Here's the thing too: Once a star, Jamison has certainly fallen down the pipeline of NBA household names, but he's still a very productive player. He averaged 17.3 points and 6.3 rebounds per game this season for the Cavs. He played in 64 of their 66 games, averaged 33 minutes and stayed healthy. Compared to previous years, his numbers dropped some -- he shot career-low 40.6 percent from the field -- but Jamison still could have an impact on a team.
What kind of contender could go after him? Well, you always have to start with the Heat who have turned into a halfway house for aging players to chase a championship. Jamison would probably target them first, then look at teams like the Bulls, Spurs, Lakers or Clippers. He's a versatile player, so he could fit almost anywhere.