Report: Mavericks G Delonte West (illness) to play 1 vs. Thunder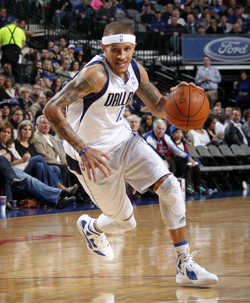 Mavericks guard Delonte West will play Game 1 against the Thunder.
(Getty Images)
After some initial uncertainty, the Dallas
Mavericks
will have the services of starting guard
Delonte West
when they open the postseason portion of their title defense on Saturday night.
Mavs.com reports
that West said he will play when the Mavericks face the Oklahoma City
Thunder
in Game 1 of a Western Conference first round playoff series after suffering through a "24-hour virus."
"I ain't missing no playoff game," West said, according to Mavs.com.
Earlier,
ESPNDallas.com reported
West's illness and that he might not play because he did not participate in shootaround.
After Saturday's morning shootaround, Mavs coach Rick Carlisle said West is dealing with a stomach illness and was vomiting Friday night after the team arrived at its hotel.

"We've got a Plan B," Carlisle said. "I'm not going to get into the details of it. We'll see where he's at game time. Other than that, we're ready to go."
West, 28, is in his first season with the Mavericks after being signed as a free agent in December. He posted season averages of 9.6 points, 3.2 assists and 2.3 rebounds per game. He started 33 games for the Mavericks.
Dallas, the West's No. 7 seed, will face Oklahoma City, the West's No. 2 seed, at Chesapeake Energy Arena. For a series preview,
click here
.