NBA Playoffs Report Card 4.29.12: Too many injuries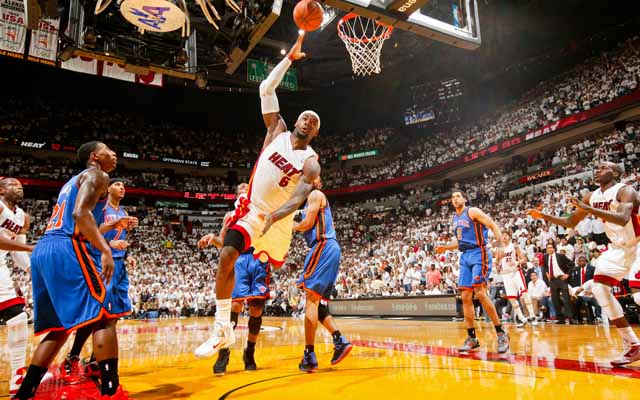 LeBron James and the Heat passed with flying colors Saturday.
(Getty Images)
Each night, Eye on Basketball brings you what you need to know about the playoffs of the NBA. From great performances to terrible clock management the report card evaluates and eviscerates the good, the bad, and the ugly from the night that was.

| | | |
| --- | --- | --- |
| | Oklahoma City Thunder | n the day's most competitive and exciting game, Kevin Durant delivered a game-winner for a crucial, dramatic Game 1 victory. OKC vs. Dallas didn't look anything like a 2 vs. 7 match-up with Mavericks forward Dirk Nowitzki finding his touch, Jason Terry hitting seemingly everything he threw up and Jason Kidd giving Russell Westbrook all sorts of trouble down the stretch. But OKC took the blows to launch a comeback thanks in part to James Harden, who dished two big assists late to help cut into Dallas' lead. The Thunder closed on a 12-4 run and held Dallas without a field goal in the final 2:30. This series has classic written all over it and it could easily go six or seven games. The Thunder will surely be thanking their lucky stars they scraped out this one over the next week or two. |
| | Miami Heat | An absolute clinic. The Heat demolished the Knicks defensively, swallowing New York's offense alive. They fronted Carmelo Anthony and when the Knicks guards attempted to lob the ball over the top, jumped up and snatched it out of the air with their superior athleticism. They attacked the ball on their way to 27 forced turnovers, and on offense had a steady stream of LeBron James to keep them going. Not a great day efficiency wise for the rest of the Heat offense, but Mike Miller did hit three 3's (out of nine attempts) and Dwyane Wade helped out. A great effort to set the tone for the Heat's playoff run. |
| | Dallas Mavericks | If you get a B on the road in a playoff game when you lose, you know you played pretty well. The Mavericks led for most of the game, but couldn't close the deal thanks to some untimely Nowitzki turnovers and a lot of glass and iron on KD's final shot. The Mavericks, though, showed that they can run with the Thunder, get offense, and stifle Kevin Durant for long stretches. There's every reason to belive the Maverics can extend this series, and if they do, who knows what will happen when it comes down to a handful of Dirk Nowitzki possessions? |
| | Philadelphia 76ers | The Sixers could not have payed much worse. They failed to secure anything close to resembling momentum. Andre Iguodala fell apart. He was unable to defend Rip Hamilton through screens, unable to generate offense off the dribble, and unable to make a big enough impact defensively. The Sixers simply settled for jumpers too often. The playoffs take another level of aggression which was sorely missing from Philly's opening effort. The Rose injury opensthe door for them to steal this seris, but if they play as they did in Game 1 consistently, they'll be headed home soon regardless. |
| | Orlando Magic | The only road team to steal a win on Saturday was the one many had counted out coming into the postseason. Even without Dwight Howard, the Magic managed to hold the Pacers - a top-10 offense in terms of efficiency -- to just 77 points total and only 14 in the fourth quarter. Orlando managed to hold the rebounding margin fairly close (-5) thanks to 24 boards combined from Glen Davis and Earl Clark. The perimeter defense was excellent, the +5 differential on three-point makes didn't hurt at all and some timely scoring (including five treys) from Jason Richardson in big moments helped push things over the top. Is this repeatable three more times out of the next six games? Possibly. Maybe not probably. But possibly. Regardless, a perfect start considering the circumstances. |
| | New York Knicks | Based on the 33-point margin of defeat, this should probably be an F. Consider it a pity "D", then, if only because the loss of talented guard Iman Shumpert to a season-ending ACL tear was so painful to watch. The Knicks got torched by LeBron James, which happens. They got dinged with whistle after whistle, sending the Heat to the free throw line 33 times, which happens. They turned the ball over a lot (27 times), which happens. They couldn't hit shots, which happens. Unfortunately, all of those things happened on the same night, Tyson Chandler was under the weather and in foul trouble, and the All-Star duo of Carmelo Anthony and Amar'e Stoudemire combined for a putrid 5-for-22 shooting for 20 points. With zero points in 69 combined minutes from Chandler, Shumpert, Mike Bibby and Jared Jeffries, the Knicks needed 80 combined points from their All-Stars, not 20. No chance this one turns around. |
| | Indiana Pacers | What an absolute meltdown from the Pacers, who failed to score in the game's final 4:04 and gave up an 11-0 run to take the Game 1 loss. There were two big questions facing Indiana entering this series: How would they handle being the favorites and who would emerge as the go-to guy(s) from a balanced scoring attack? They went 0-for-2 on those questions, crumbling under the pressure with ugly turnovers and poor shots. Nothing about this loss suggests that Orlando was the better team, so Indiana's talent advantage should still eventually win out. But they'll need at least one road win now. |
| | Chicago Bulls | Derrick Rose disaster or not, the Bulls played exceptionally well against the Sixers, but could have played even better. They didn't get their usual dominant play from their bench unit. But they controlled the glass, and Rip Hamilton was exceptional off the cut. The Bulls played so well without Rose during the year, you have to wonder if they have enough to make a run, even with the MVP MIA. The Bulls can play better, but still played more than well enough to win. |
| | Injuries | Why must you rob us of those we love, evil Basketball Gods? Why? |