New York Knicks vs. Miami Heat Game 2 Preview: Fronting Carmelo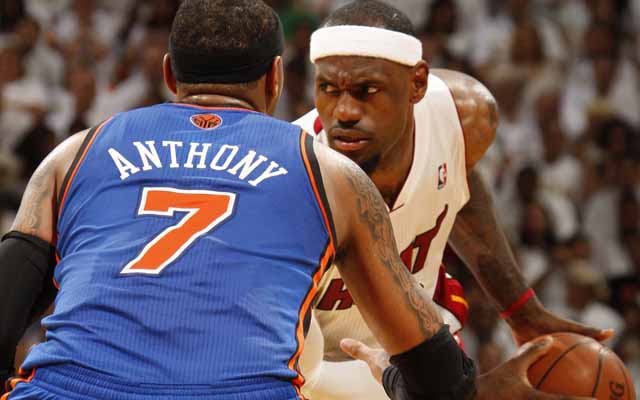 Carmelo Anthony enters another game with touch challenges ahead of him in Game 2 vs. Miami.
(Getty Images)
Our team brings you the preview of the biggest playoff game on the docket each night. Today, the
Knicks
try and even the series, or at least get their pride back against the
Heat
in Game 2.

1. Where We're At:
The Heat lead 1-0, but it feels like 5-0. The Heat's beatdown in Game 1 was as impressive and complete at both ends as you're going to find from the weekend. They shut off every angle defensively, and got out and lived in transition, where they are the most dangerous team in the league.
2. The Big Number:
Carmelo Anthony
and
Amar'e Stoudemire
shared the floor for 30 minutes Saturday, and were a -19. With both on the floor, the team had 15 field goals made and 16 turnovers, and were outscored by 36 points per 100 possessions. So no, that combo did not go well together.
3. Key Adjustment:
The Heat fronted Carmelo Anthony in the post and made life miserable for him. When the Knicks guards attempted to lob it, the pass was nearly always off target and the Heat snatched it out of the air. When he did catch it, it took so long that a second defender was behind him to front immediately. The Knicks can't live with Melo not getting the ball consistently. It forces the shot clock down and kills their offense.
4. The Big Story:
Iman Shumpert
's
injury was huge
for the Knicks, but
Tyson Chandler
's hit on
LeBron James
,
and James' subsequent flop sets the tone for this series
. It's going to be chippy, nasty, with tough hits and some acting on both sides to exacerbate it. The officials will have their hands full in this one, with a desperate Knicks team fighting for air.
5. The Facts:
Tipoff 7 p.m. EST. Iman Shumpert is out for the rest of the year. Tyson Chandler
is s
tarting,
Landry Fields
will start in his place.
Baron Davis
is experiencing pain in his back , but will start. He will be limited, so
Toney Douglas
could see more time. The Heat are more or less healthy, if
Mike Miller
is every healthy.