Heat 104 Knicks 94: Melo needed all the shots in the world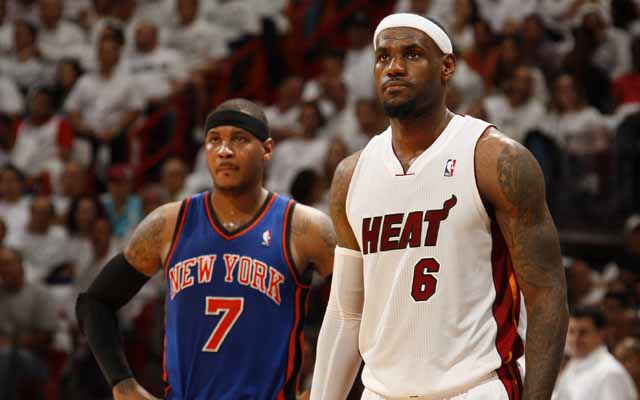 (Getty Images)
In the first quarter of Game 2 vs. the New York
Knicks
and Miami
Heat
,
Carmelo Anthony
played the most exciting kind of basketball possible. One-on-one, taking his opponent off the dribble, and hitting tough shot after tough shot on pull-up jumpers over him. It was thrilling stuff. He scored 15 points on 6-11 shooting and the Knicks were only down by 3.
Was this the recipe? Is this what it would take for the Knicks to beat the Miami Heat? And if so, could it sustain throughout the game against a tough defense that brings help and features multiple elite defenders?
Of course not
. Heat 104 Knicks 94.
Hero Mode works for a quarter, for clutch time, for spurts. It's not a strategy.
Anthony would shoot 6-15 for the rest of the game, finishing with 30 points on 26 shots and three turnovers. The Knicks would shoot 49 percent and still it would not be enough. As the game wore on, the margin increased because Anthony, clearly exausted, could not get the same tough shots to fall. When you rely on tough shots, you have to be perfect while your'e doing it. It's too difficult to be perfect for 40 minutes. The Knicks are a quality defensive team this year. But the only way they'll beat the Heat is if they can outcore them. And that means they need a sustainable approach. Anthony launching and launching while
J.R. Smith
takes step-back threes is not it.
It's easy to point to the defense for the Knicks, who allowed a 121 defensive efficiency against the Flying Death Machine, but in reality, there were two elements that would not allow that to become reality. First, the Knicks' long jumprs led to transition opportunities which led to buckets for Miami over and over. And second,
LeBron James
was only going to be stopped with a 2X4 or the National Guard.
It was James' third quarter run into the fourth that allowed the Heat to stretch the lead. They wouldn't look back
So the Knicks return to Madison Square Garden down 2-0, having been handles and controlled in consecutive games, having gotten big a big scoring night from Carmelo Anthony and still nothing to show for it. The Knicks are either going to have to figure out how to stunt and paralyze the Flying Death Machine, or find an offense they can rely on. This isn't going to cut it.