Rockets G Kyle Lowry underwent sports hernia surgery, out 6-8 weeks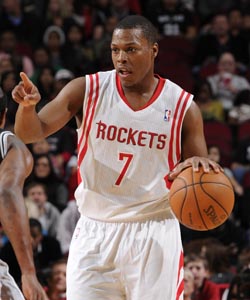 Kyle Lowry underwent hernia surgery.
(Getty Images)
The road to a rebound begins today.
The Houston Rockets announced on Tuesday that guard Kyle Lowry underwent surgery "to correct a sports hernia." The procedure will keep him away from his offseason regimen for six to eight weeks.
That timeline allows plenty of time for Lowry to return to full health prior to training camp for the 2012-2013 season.
Lowry had a difficult season personally, as he was sidelined for an extended period of time due to a bacterial infection. At one point, it was thought that the infection would
cost him his season
but Lowry was able to return after missing a month, albeit in a reserve role.
The Rockets, as a team, crashed out of the Western Conference playoff picture in disappointing fashion this season, losing seven of their final nine games to finish with a 34-32 record.
Lowry, 26, averaged a career-high 14.3 points, 6.6 assists, 4.6 rebounds and 1.6 steals on 40.9 percent shooting in 32.1 minutes per game this season. He's under contract with the Rockets through the 2013-2014 season.