Celtics G Ray Allen (ankle) is out vs. Hawks in Game 2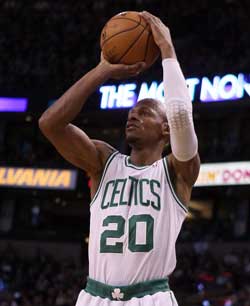 Celtics guard Ray Allen will try to shoot through ankle pain if possible.
(Getty Images)
Boston Celtics guard Ray Allen will miss his second consecutive game of the postseason.
After sitting out Game 1 of an Eastern Conference first round playoff series against the Atlanta Hawks on Sunday, Allen will not go during Tuesday's Game 2,
according to the Boston Globe
.
Allen, 36, played in 46 of Boston's 66 regular season games this season and hasn't played since April 10, sitting out Boston's final nine games.
Earlier this week, Allen said that offseason surgery on the ankle is "inevitable" and that he would undergo the surgery immediately if not for the playoffs.
This season, Allen posted averages of 14.2 points, 3.1 rebounds, 2.4 assists and 1.1 steal in 34.0 minutes per game while shooting 45.8 percent from the floor.
The Hawks lead the playoff series 1-0.
The Celtics will also be without starting point guard Rajon Rondo, who was
suspended for Game 2
after bumping referee Marc Davis.