Celtics 87 Hawks 80: Hawks beat themselves when faced with Celtics' grit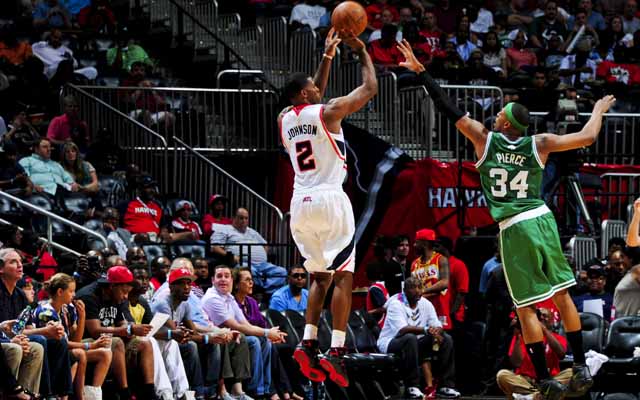 Too much of this off ISO plays for the Hawks in Game 2.
(Getty Images)
The Atlanta Hawks' biggest enemy over the past four years hasn't been the salary cap, injuries, a brutal, top-heavy East, or bad luck. It's been themselves. They continually, ritually, and brutally beat themselves in the worst ways. And it always starts with the offense. J
ust as the Hawks built a lead through three quarters in their Game 2 loss 87-80 to Boston with their ball movement offense spurring their defense, so too could you see the meltdown coming defensively once their offense stalled.
ISO ball has been the dominant play-style for the Hawks over the years. Despite a dynamic point guard in Jeff Teague, despite a game management point guard in Kirk Hinrich, despite a great post and off-ball cutter in Josh Smith and a versatile wing in Joe Johnson, the Hawks over and over again do not set up smooth rotations, they simply try and attack their opponent one-on-one. And it's been their undoing in every playoff loss they've taken. Tuesday night, the same old story.
Boston has a phenomenal ISO player in Paul Pierce. But Pierce also understands how to attack a set defense in smarter and craftier ways and how to punish a team for sending help. He's also a better ISO player than anyone on the Hawks. But instead of playing to their strengths, which lead to wide open dunks in the first-half for Boston, they went back to that same mentality. Without Josh Smith (
WATCH: Josh Smith leaves game with knee sprain
) to make plays, the Hawks fell apart. In the first half, the Hawks had an unimpressive but doable 97.3 offensive efficiency. In the fourth, that number plummeted to 58.3, which is on part with your 8th grade intramural team. And the Celtics fed off of it.
So here the Hawks are, tied 1-1, going to Boston having lost homecourt advantage. The Hawks have shown through two games that they can match up with Boston, that they can challenge Boston, but that when Boston applies the extra gear, the playoff veteran ability to surge to the end, the Hawks won't get in the way. No, in fact they'll run themselves on their own one-on-one sword.
The Hawks can get themselves back in this series, but it would mean making smart plays on offense. Being patient and aggressive. Relying on Jeff Teague and helping him create space, knocking down open shots in the corner. It means playing with poise, and intelligence, and determination. Everything that Boston played with in the fourth quarter. You know, everything we're used to the Hawks not being when they need to deliver.
The Hawks continue to lose to the Hawks.
Statistical support provided by NBA.com.