NBA Playoffs Report Card 5.2.12: Sixers kick the Bulls while they're down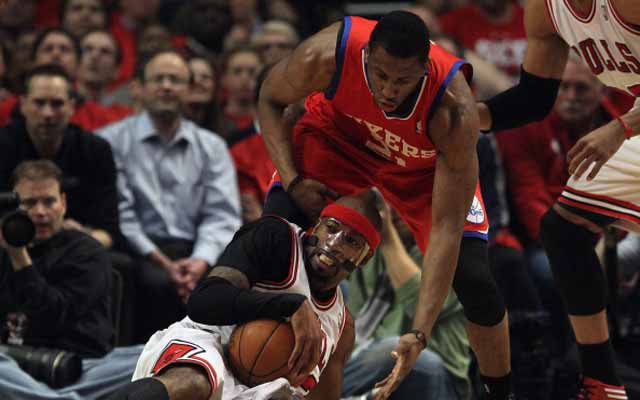 The Sixers picked on the Bulls when they were down in Game 2.
(Getty Images)
Each night, Eye on Basketball brings you what you need to know about the games of the NBA. From great performances to terrible clock management the report card evaluates and eviscerates the good, the bad, and the ugly from the night that was.

| | | |
| --- | --- | --- |
| | Philadelphia 76ers | A dominant second half gets them a win that feels empty because of the absence of Derrick Rose but counts just the same in the series standings. The Sixers got perimeter scoring and playmaking from Jrue Holiday and Evan Turner (the Villain) and torched Rose's replacements consistently. Elton Brand continues a strong series defensively and Andre Iguodala seemed much more engaged defensively on Luol Deng and Rip Hamilton. It was a strong performance on the road and gives Sixers fans a reason to believe that the team can take advantage of the Bulls' misfortune, fair or not. |
| | Boston Celtics | Closed with a monster run behind vintage Paul Pierce, closing off any attempts by the Hawks to get into the paint. The Celtics' fed offense off their defense. Bad jumpers led to long rebounds, which led to transition buckets for the Celtics, which allowed the Celtics to reset their defense, which led to long jumpers. Rinse, lather, repeat. Meanwhile they got inside scoring from Kevin Garnett as KG shut off the perimeter penetration and lucked into Josh Smith going down with a knee sprain. It was the kind of momentum-swinging win the Celtics are famous for, and sets them up in terrific position headed into Game 3 in the friendly confines of TD Garden. |
| | Denver Nuggets | Made an impressive showing on the road in a close loss in Game 2. Going to level with you, I think Denver's got no shot against the Lakers' size, so they get point just for hanging around. This C is as good as an E for effort. Horseshoes and hand grenades, but at least the effort is commendable. |
| | Atlanta Hawks | Blew a late lead when they had total control of the game. As soon as the Celtics even casually suggested they should go to isolation sets, the Hakws dove into the one-on-one pool with all their might. They abandoned what had worked for three quarters completely. Josh Smith's injury certainly impacted their talent on the floor, but there should have been more of an effort to create cohesion out of chaos. Just when you think the Hawks might be on to something, they drag you kicking and screaming back to the reality they'll never get out of their own way. |
| | Chicago Bulls | The problem with setting standards. Had the Bulls not looked so good throughout the regular season without Derrick Rose, this wouldn't be a big deal. Had Chicago not outplayed the Sixers in the first-half of Game 2, you could pin it all on Derrick Rose hangover. But the reality is that Chicago had this game on lockdown and was totally overwhelmed in the second half. The Sixers found the Bulls' weakpoint in John Lucas III and C.J. Watson's defense, and attacked it mercilessly. Yes, Derrick Rose was out. But that's who this Bulls team is now, and giving them a pass each game because of that does a disservice to the high level of play they've provided all year long. |
| | Los Angeles Lakers | The Lakers played well enough to win, and won. They let Denver hang around too long and nearly paid for it, but you still walk away with the feeling that the Lakers have this series on lockdown. The series shifts back to Denver with no indication that the Nuggets can slow down, stop, or even distract Andrew Bynum should he choose to exert himself. |