Heat 87, Knicks 70: Over before it began?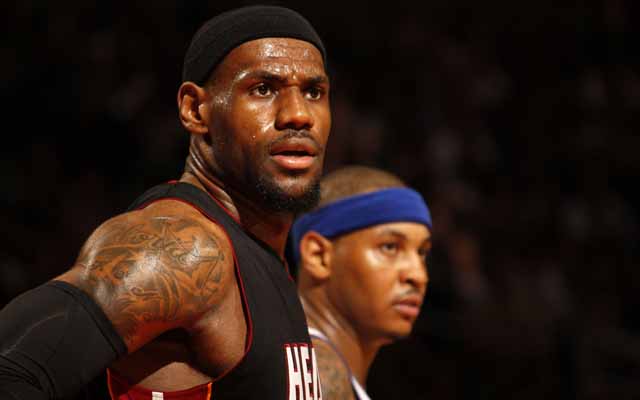 One superstar arrived in the fourth for his team.
(Getty Images)
For a while it seemed like the implausible was plausible. Like all the jokes would wind up mute, that the
Knicks
would wind up with the last laugh. No Stoudemire, no Lin, all Melo.
Landry Fields
in a primary offensive role. For 24 minutes, that was the Knicks' dream. Slow it down, bog it down, bury the
Heat
in mud and have the unlikely band of reserves carry a lead into the fourth, and let
Carmelo Anthony
, the man obtained for a King's ransom, take them home.
It seemed possible.
It was possible.
It just wasn't likely.
Heat 87 Knicks 70, Heat lead 3-0
.
There's a lot of blame to go around for the Knicks, but you wonder if any of it would have made a difference. Had
Amar'e Stoudemire
not injured himself punching a fire extinguisher, would the Knicks have been able to score? Not with Carmelo Anthony missing constantly from every range and the Heat swallowing up
Steve Novak
's opportunities.
Had Melo shot better, would it have been enough? Probably not given the Heat's confidence in making adjustments and constantly throwing different looks at Anthony, as well as their own offensive dominance in the fourth.
Had the Knicks been able to stop
LeBron James
in the fourth quarter, could the Knicks have come back? Well, yes, but that also means they possess a dark magic not of this world.
The Knicks just didn't have enough in this series. New York and its media will always look to what they could have done, what they could have gotten, but the reality is that the Knicks were just not well constructed, and as we've noted before, their approach isn't sustainable. You can't rely on isolation offense from Carmelo Anthony for 38 minutes and
J.R. Smith
for the rest, with a smattering of
Mike Bibby
,
Baron Davis
, and Steve Novak.
It's just not a meal your offense can live on. And the Knicks couldn't. Against an elite team, it was going to fail, it was only a matter of time.
After firing Mike D'Antoni, getting an offense tailored to his talents, putting their biggest superstar against Miami's, the plan lays in ruins. They're staring at a very likely second-consecutive first-round sweep. The questions will be about getting Melo more help, about building a better team around him. But this team at times had that spark that good teams do. It had elite defense, at least for a while, when not matched up with the Heat's onslaught.
Where do the Knicks go from here? Well, back to Madison Square Garden for one more game, and an attempt to completely change everything the first three games have shown us, that this series was over before it began.