Mike Woodson denies report concerning contract extension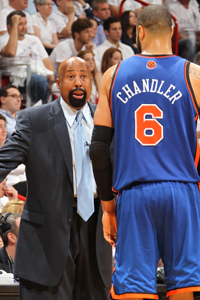 Mike Woodson could surprise many as the new Knicks coach full-time.
(Getty Images)
Update: Woodson denied any contract extension talks to reporters,
via ESPN New York
.
----

The Knicks narrowly avoided a sweep on Sunday with a last-minute win over the Heat, and face the prospect of being down 3-1 headed ito Miami Wednesday night for Game 5. But despite what will likely be their second consecutive first-round exit and little progress in the way of a complete offense, it's beginning to look like Mike Woodson has done the one thing necessary to get the Knicks' head coaching gig: make Melo happy.
The New York Daily News Reports:
The Knicks have initiated talks that would keep Woodson as the team's head coach for the foreseeable future, the Daily News has learned. The talks are only in the preliminary stages but it is clear that Madison Square Garden management is convinced Woodson is the right man for the job and will not pursue either Phil Jackson or Kentucky head coach John Calipari.

...

Woodson has the support of several key players, most notably Carmelo Anthony. He also has a strong ally in GM Glen Grunwald, his former college teammate at Indiana. Both Grunwald and Woodson are long-time friends of former Knicks president Isiah Thomas, who serves as a de facto adviser to (Garden chairman James) Dolan.
via NY Knicks working on contract extension for interim head coach Mike Woodson - NY Daily News.

You see the pattern, here, right? Mike D'Antoni wasn't in with CAA or Isiah Thomas, and didn't make Melo happy, so he's out. Woodson is tight with both, and makes Melo happy by feeding him as many isolation plays as his heart desires. So Woodson's in.

This isn't at all to reflect on Woodson, his job performance with the Knicks, or his reputation, all of which are stellar. Woodson got a bad rap with the Hawks despite successes, and his work with the Knicks' defense alone this season is worthy of his hiring full-time. But you can already see the flawed approach in this, the boys-club-ishness wearing away at the Knicks before they can establish anything. Last year's Knicks team before the trade deadline was raw, incomplete, and flawed. But it had upside, character, and chemistry. And the Knicks continue to sacrifice those elements in pursuit of some CAA-driven marketing paradise. Great for business.

Bad for basketball. Even if the decision is right, Knicks fans should be concerned by the process. Thomas' influence continues to pervade MSG.