Report Card 5.8.12: Only one team moves on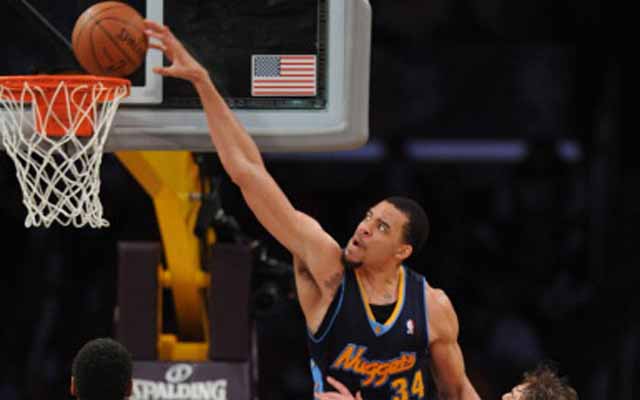 JaVale McGee skied above to help the Nuggets push L.A. to Game 6.
(Getty Images)
Each night, Eye on Basketball brings you what you need to know about the games of the NBA. From great performances to terrible clock management the report card evaluates and eviscerates the good, the bad, and the ugly from the night that was.

| | | |
| --- | --- | --- |
| | Denver Nuggets | The temptation is to assume that Tuesday night will be the highlight of Denver's season. Any time a player like JaVale McGee, who seems magnetically drawn to mistakes of all sorts, suddenly turns the corner into a two-way force who completely outplays Andrew Bynum and dazzles with his feats of flight, there's an aura of "it feels too good to be true." But it's certainly worth savoring for the night. It was a very fine hour for Andre Miller, who finished with 24 points and 8 assists and provided enough in the way of his own scoring and play-making to hold off a late Lakers rush. Miller had as many 50-foot alley-oop lob passes as he did turnovers (1). He's never won a playoff series but he's not about to stop trying now. |
| | Los Angeles Lakers | In total, L.A. did not play very well, shooting just 38.9 percent and getting just nine points in 37 minutes from Pau Gasol, a terrible production rate for a player of his skillset. Andrew Bynum took just eight shots 39 minutes and never seemed invested. The Lakers have lacked for consistency and motivation in this series and they will get blown off the court by the likes of the Thunder and Spurs if they bring this type of third-rate effort. As is, they lost to an inferior Denver team and must re-group for a Game 6. Kobe Bryant finished with 43 points, including a late flourish, but 14-for-32 shooting, even with five threes, isn't going to be good enough in the next round, when OKC sports three efficient shot-creators and play-makers. This game was full of definite red flags. |
| | Boston Celtics | The Celtics needed more from Paul Pierce, who has been asked to play a ton of minutes and carry a big load offensively throughout the series. He never looked right during Game 5, hobbling on a sore knee and shooting 7-for-17 in 36 minutes. Atlanta made a push when he checked into the game during the fourth quarter and not even the creative brilliance of Rajon Rondo could save the Celtics. Rondo finished with 13 points, 5 rebounds, 12 assists and 5 steals but committed a crucial turnover on the game's final possession. It was a disappointing ending to an impressive night: on multiple occasions his passes were so good they made Ryan Hollins look like a legit NBA player. |
| | Atlanta Hawks | The Hawks seemed a prime candidate to roll over and take their series loss after a demoralizing blowout loss in Game 4. Instead, they battled for 48 minutes against the Celtics, launching a nice defensive stand on the game's final possession to preserve the victory. Atlanta moved the ball -- 20 assists on 34 baskets -- and put all five starters into double figures. Josh Smith gutted out 13 points, 16 rebounds, 6 assists and 1 block while playing through a knee injury. Not too shabby. Not too shabby at all. |
| | Chicago Bulls | Well, they won. Luol Deng played well. Taj Gibson beasted defensively. The Bulls shut down everything. Now let's never talk about that game ever again. |
| | Philadelphia 76ers | Way to finish strong, Sixers. A weakened team on an emotional edge, without their best player or starting center. And instead you shoot sub-30 percent and get dominated in one of the ugliest games imaginable. The Sixers are fish food. Digestable and easily dilutable. |
| | Indiana Pacers | Hey, a team that actually closed out for once. That's nice. The Pacers really pushed the pace in the fourth and broke the game open, ending the series. A strong way to head on to the conference semifinals. |
| | Orlando Magic | A good showing from a team with a lot going against it. But the Magic just didn't have enough. Hard to give them a failing grade with what they were up against, but this is the big boys league. |