Dwyane Wade is hedging on the 2012 Olympics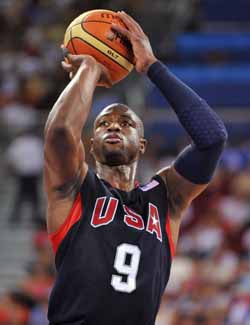 Team USA's roster has been thinned out a bit because of injury. No
Derrick Rose
, no
Dwight Howard
.
Not too big a deal because the U.S. still has LeBron, Kobe, Durant and Wade, right? Well, maybe not. Wade might not be playing in London,
via NBA.com
:
Speaking of which, Dwyane Wade sounded slightly less than 100 percent certain he'll be in London no matter what, even after accepting the invite to what would be his third Olympics after being prodded by his 2008 Beijing teammates ("Kobe was like, 'if my old self is playing, you can,' " Wade said -- and I'm sure Kobe said 'self' there, aren't you?) into putting the band back together one last time.

"I told them, I said, listen, I'm just going to see how I feel," Wade said last week. "This is about being healthy -- I think, for all of us, going into the summer healthy -- and taking it from there."

This was somewhat surprising to (USA Basketball chairman Jerry) Colangelo, reached Sunday night.

"You could, today, probably come up with 10 or 11 that look pretty solid unless something happens," he said by telephone. "Wade's one of those guys, but if he feels like he doesn't have anything left or doesn't think he can go, then we'll make a decision as to who replaces him. We do have a lot of flexibility because we have guys who can play so many positions."
Obviously, Wade's not saying he's out, just that he wants to wait and see. The
Heat
are likely headed for a Finals appearance, meaning he's got at least around 25 games left to play. That's a lot of wear and tear, especially coming off this lockout season.
Colangelo might've been a little surprised by Wade saying that, but he has some quality foresight. He just recently added a very worthy guard to the roster in
James Harden
meaning Team USA would have a capable replacement if Wade does decide to pull out.
Wade's clearly one of the stars of Team USA, but if he decided to opt out, it wouldn't be the biggest blow becasue there's some solid depth at his position. Kobe, Harden,
Eric Gordon
,
Andre Iguodala
,
Russell Westbrook
-- there's talent at guard and small forward. Still, you don't want to be missing one of your better players.
Wade has already made a little Olympic noise,
saying that players should be compensated for playing
. I don't think this is related to that, but that was part of the point he and
Ray Allen
were making. If there was a little incentive to play, guys might not be so quick to back off and use the summer to rest.