Heat complete cakewalk over Knicks, eye 'cage fight' vs. Pacers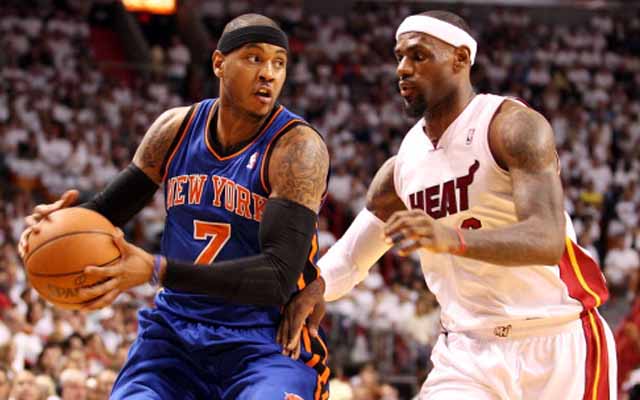 The Miami Heat sent the New York Knicks packing.
(Getty Images)
The cakewalk is over. A "cage fight" awaits around the next corner, at least if you believe the hype coach Erik Spoelstra was spouting after his Miami Heat eliminated the New York Knicks on Wednesday night.
The Heat took Game 5 of their Eastern Conference first round playoff series against the Knicks, 106-94, to win the series 4-1. All four of Miami's wins in the series were by double-digits, with an 18-point average margin of victory. The Heat's one loss came after they blew multiple double-digit leads on the road in New York. This wasn't a series so much as a slaughter, a mismatch of talent that only got worse as the knee injuries piled up for New York over the course of the last 10 days.
"They're a team that's playing at a high level," Knicks interim coach Mike Woodson said. "We're a team that's learning."
Heat eliminate Knicks
Related links
Stories
Game 5 was a "by the blueprint" kind of victory for Miami, with All-Star forward
LeBron James
establishing his supremacy over the competition, doing it all to the tune of 29 points, 7 rebounds, 7 assists, 2 steals and 1 block in 39 minutes. Knicks All-Star
Carmelo Anthony
did his best to keep pace, scoring a game-high 35 points, but his one-man show wasn't ever going to be enough.
Heat coach Erik Spoelstra was gracious in victory.
"Anthony is exactly what we expected, a top-3 tough cover in this league," he said. "Now that we can remove ourselves from this series, I don't know how you can stop that guy."
It was a nice, polite thought, but it was an exaggeration. Anthony, burdened by injuries or illnesses to
Jeremy Lin
,
Iman Shumpert
,
Baron Davis
,
Amar'e Stoudemire
and
Tyson Chandler
during various portions of the series, was never truly outstanding. He no-showed in Games 1 and 3 and exploded only once, a 41-point effort in Game 4. He struggled from outside --shooting a combined 4-for-18 from deep for the series -- and never dished more than four assists in a game. The depleted Knicks needed Anthony to become unguardable if they were to have a chance, and that never happened, even as he averaged 27.8 points per game.
It was a battle, we fought, under the circumstances," Anthony said, nodding to the difficulty of playing the likes of decrepit
Mike Bibby
and the forgotten
Toney Douglas
in the postseason against the likes of Miami.
With the top-heavy Knicks now dispatched, the Heat turn their attention to a second round series with the balanced and deep Indiana
Pacers
, the East's No. 3 seed. Indiana knocked out the Orlando Magic in five games. The two teams will begin their second round series on Sunday.
"The team we'll be facing is a physical team. It's a team that's playing at an extreme high
confidence level right now," Spoelstra said. "This next series I'm sure will feel like it's played in a cage rather than a basketball court. It will be extremely physical."
Indiana has a true center in
Roy Hibbert
, multiple scorers in their frontcourt and a number of athletic wings to throw at James and Wade. Indiana's rotation can go eight or nine players deep and it's a no-ego group.
"They have a great inside-out attack, they have great balance," Spoelstra continued.
Of course, all of those match-up problems and strengths haven't translated to true concerns this season. Miami won the season series 3-1, including two double-digit victories. Indiana has a "happy to be there" vibe, having reached the second round of the playoffs for the first time since 2004-2005.
Miami, obviously, enters with a different mindset. James, who averaged 26.8 points, 8.5 rebounds and 6.5 assists against the Pacers this year, summed it up nicely on Wednesday, making clear his confidence level.
"I don't think they've given us too many problems personally," he said. "We've played some great ball against them. I think we've given more problems than they've given us."
With the Chicago Bulls on life support and the Boston Celtics unable to put together consistent play during the first round, there's no Eastern Conference that should be giving Miami problems this year. The table is set for a smooth return trip to the Finals.