James Harden wins 2012 NBA Sixth Man of the Year Award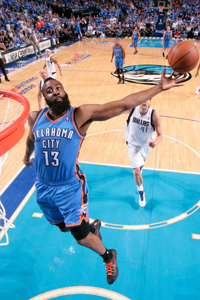 OKLAHOMA CITY -- In probably the least shocking turn of events of the award season,
James Harden
has been named Sixth Man of the Year.
Harden received 584 of a possible 595 points, including 115 of a possible 119 first-place votes, from a panel of 119 sportswriters and broadcasters throughout the United States and Canada. Louis Williams, who led the Philadelphia 76ers in scoring (14.9 ppg) despite not starting a single game, finished second with 231 points. Jason Terry of the Dallas Mavericks, who won the award in 2008-09, finished third with 81 points.
The bearded Thunder guard completed an outstanding season off Oklahoma City's bench averaging 16.8 points, 4.1 rebounds and 3.7 assists in 31.4 minutes per game. His PER was 21.1 and he had percentages of 49.1 percent from the floor, 39.0 percent from 3 and 82.0 percent from the line. He set a a new career-high three different times this season, capping it off with a 40-point explosion against the Phoenix Suns.
Harden is the first player to win a major individual award in Thunder franchise history. (Kevin Durant obviously won Rookie of the Year in Seattle.)
Harden was one of the league's most efficient players this season, averaging an outrageous 1.66 points per shot. That was second in the league only behind Tyson Chandler (1.97). Consider this little nugget as well via HoopsHype: "To put Harden's feat of 1.66 PPS as a guard into even more perspective, neither Michael Jordan nor Steve Nash nor Ray Allen ever broke the 1.5 PPS mark."
There was always chatter about Harden needing to be a starter, but his comfort level is higher off the bench. He has said he prefers starting on the side. With Durant and
Russell Westbrook
, Harden has always had the challenge of figuring out how to fit on the floor and by coming off the bench, he's able to find a rhythm and flow.
His role has never really been something he was worried about, though Scott Brooks did say he met with Harden following the season last year and asked him if he wanted to start.
"We sat down for lunch and I wanted to get his thoughts going into the summer because I thought that was going to be a very important summer for him and our team's growth taking the next step," Brooks said. "I just asked him 'What are your goals going into the summer?' thinking he would tell me he wanted to start. All he said was, 'Coach I want to do whatever it takes for the team to get better.' And right then and there I knew he had bought in to the job that we need him to do."
Settling into a sixth man role isn't easy for a guy that's drafted third and was an All-American. And it was something Harden had to figure out, saying he really didn't "get it" until a little later on.
"Being drafted the third overall pick, most guys would come in and think they're going to be a starter on any team," Harden said. "But this team is definitely something special, especially with all the talent that was already here. And Scotty did a great job of making me become that sixth man off bench. Helping me figure my role out. At first as a rookie, I didn't get it. I just thought I was going to go in there and score and do all the things that every other players thought. But learning, three years it took me to embrace that role, come in and not just score the ball, but change the game."
Keep in mind, he's just 22. He stepped into a challenging role coming out of college as a terrific scorer, an All-American, Pac-10 Player of the Year, a guy who could probably go to a team and lead it as its first option. But instead, he's settled into a job with the Thunder, becoming as important a piece to the team's success as Durant or Westbrook.
"We also feel it's important to note that James is the second youngest player to win this award," said general manager Sam Presti. "This is only important to us because I think it speaks to the fact that not many young players at this stage of their career would be able to understand and respect the role itself and the meaning it has to the team. His approach to this role has really helped define our team and all that we're about.
"James is a young person, but he has a very mature outlook," Presti continued. "And that has nothing to do with the stellar facial hair that you see before him right there that's on display that makes all of us jealous."
Oh right, the beard. Harden was asked if it deserved a little credit.
"Of course," he said. "It's very noticeable. It's who I am. It's gotten me to where I am. And all credit to it."
The voting results were as follows:
James Harden Oklahoma City 115 3 -- Total: 584
Louis Williams Philadelphia 3 62 30 Total: 231
Jason Terry Dallas -- 20 21 Total: 81
Al Harrington Denver -- 9 15 Total: 42
Manu Ginobili San Antonio -- 9 1 Total: 28
Taj Gibson Chicago 1 5 8 Total: 28
O.J. Mayo Memphis -- 2 12 Total: 18
Mo Williams L.A. Clippers -- 1 11 Total: 14
Thaddeus Young Philadelphia -- 2 4 Total: 10
Kyle Korver Chicago -- 1 1 Total: 4
Zach Randolph Memphis -- 1 -- Total: 3
C.J. Watson Chicago -- 1 -- Total: 3
Carl Landry New Orleans -- 1 -- Total: 3
Jamal Crawford Portland -- -- 3 Total: 3
Gary Neal San Antonio -- -- 2 Total: 2
Mike Dunleavy Milwaukee -- -- 2 Total: 2
Tyler Hansbrough Indiana -- -- 2 Total: 2
J.R. Smith New York -- -- 1 Total: 1
George Hill Indiana -- -- 1 Total: 1
Andre Miller Denver -- -- 1 Total: 1