Kobe Bryant misses shootaround with gastroenteritis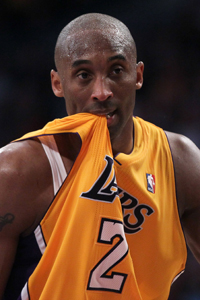 Update:
Yahoo Sports reports
that Bryant will play in Game 6.
-------
MJ's got the Flu Game. Now Kobe could have the Gas Game.
Kobe Bryant
sat out the
Lakers
Thursday shootaround with gastroenteritis. The Lakers play the Nuggets in a pivotal Game 6 tonight in Denver.
He's listed as questionable and
the team's official site
says Kobe's status will be known about 90 minutes to tip-off.
Gastroenteritis is officially described as an inflammation of the gastrointestinal tract that involves both the stomach and small intestine resulting in diarrhea, vomiting and abdominal pain and cramping. Doesn't exactly sound like something you can easily play through.
However, Kobe has a long standing history of playing through injuries and ailments so you can be sure if he can go, he will. He's battled knee issues, a wrist injury, a busted nose and an imflamed shin this season. So it's going to take some kind of upset stomach to keep him out of a playoff game.
Bryant is averaging 31.2 points per game in the series plus 5.8 rebounds, 4.6 assists and 1.4 steals on 43 percent shooting in 40 minutes per game.