Clippers-Grizzlies Game 6 preview: Staying alive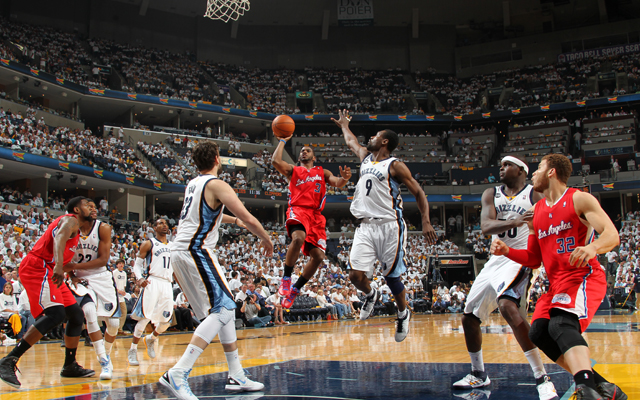 Chris Paul will try and take Game 6 on his shoulders.
(Getty Images)
Previewing
Clippers
-
Grizzlies
Game 6.


1. Where We're At:
It's 3-2 headed back to Los Angeles. Both teams face a must-win under difficult conditions. The Grizzlies obviously have to stave off elimination on the road in a building they haven't gotten a win yet this postseason, after nearly finding their playoff exit off yet another fourth-quarter collapse in Game 5. The Clippers have to win Game 6 to avoid losing two straight to Memphis, all momentum, and facing trying to close out a series on the road having surrendered a 3-1 lead. Things get serious Friday night in Hollywood.
2. The Big Number:
35.7 percent. That's the Grizzlies' effective field goal percentage (or "eFG%" factoring three-point attempts) in the fourth quarter of this series. That's abysmal. If Memphis doesn't find a way to hit some shots in the fourth quarter, they're headed home for the summer.
3. Key Adjustment:
Are we finally going to see
Tony Allen
in late-game situations against
Chris Paul
? Lionel Hollins has held Allen back, whether due to his sore knee or his need for offense, and Paul has made the Grizzlies pay. If it's a close game with the series on the line, you have to wonder if the Grizzlies' best isolation defender will stick with the Clippers' best isolation scorer.
4. The Big Story:
The Clippers had some ... well, Clipper luck in Game 5 as both
Blake Griffin
and Chris Paul suffered second-half injuries which impacted them. Both are expected to start Game 6, but that's got to be something to keep your eye on.
5. The Facts:
9 p.m. EST tipoff. Blake Griffin and Chris Paul are both expected to play but are gametime decisions. Griffin suffered a hyperflexed knee in Game 5, while Paul suffered a hip flexor.