NBA Playoffs Report Card 5.12.12: Lakers, Celtics re-establish old world order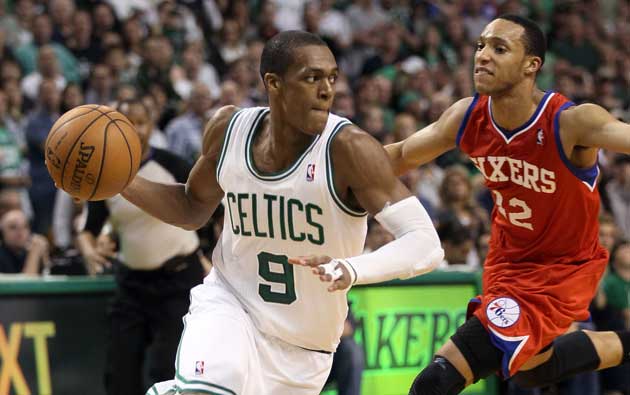 The Nuggets outraced the Lakers in every area Thursday night to force Game 7.
(Getty Images)
Each night, Eye on Basketball brings you what you need to know about the games of the NBA. From great performances to terrible clock management the report card evaluates and eviscerates the good, the bad, and the ugly from the night that was.

| | | |
| --- | --- | --- |
| | Boston Celtics | If we've seen it once, we've seen it 1,000 times: the Boston Celtics start imperfectly, ride their defense back into the game, and then smartly turn over the game to their tested crunch-time performers to eek out an ugly win and break the will of a lesser opponent. Game 1 of the Eastern Conference semifinals against the 76ers went exactly according to plan, with Rajon Rondo orchestrating with a triple-double (13 points, 12 rebounds, 17 assists, 4 steals) and Kevin Garnett (29 points and 11 rebounds) and Paul Pierce (14 points, 6 rebounds, 6 assists, 2 blocks) taking turns delivering the big moment shots in the closing minutes. |
| | Philadelphia 76ers | Philadelphia came out with an A+ first quarter, especially on offense where they seemingly couldn't miss and put up 28 points against the league's top playoff defense. They lost their way through the middle portions of the game and then scored just three points during a six minute stretch of the fourth quarter that proved decisive. Philadelphia simply can't trade fourth quarter, halfcourt punches with Boston if it expects to win four out of the next six games. They must do a better job of playing with the lead, picking their spots to push the tempo and continue to aggressively attack off the dribble. Otherwise the favored Celtics will take this series as predicted. |
| | Los Angeles Lakers | The Lakers get a "C" for their overall performance in their first round series against the Nuggets, thanks to their inconsistent effort and a few real stinkers. But when push came to shove, the Lakers bullied the Nuggets to close out Game 7. Given Andrew Bynum's recent play and Pau Gasol's invisibility in Games 5 and 6, a "check out for the summer" performance easily could have developed. Instead, they move on to a highly-anticipated match-up with the Oklahoma City Thunder, who will make them pay dearly for any let-ups. |
| | Denver Nuggets | The Nuggets can be disappointed but not ashamed of their all-out effort in mounting a memorable comeback from being down 3-1 in the series. Ty Lawson was sensational throughout Game 7 and it was a pity he didn't have quite enough help. Danilo Gallinari goes down as the biggest goat but Denver will remember this group for its heart and its highlights, rather than the fact that it wound up just short against the favored Lakers. There are far worse ways to lose than with your head held high. |