Sixers-Celtics Game 2: Evan Turner becomes the Villain for Boston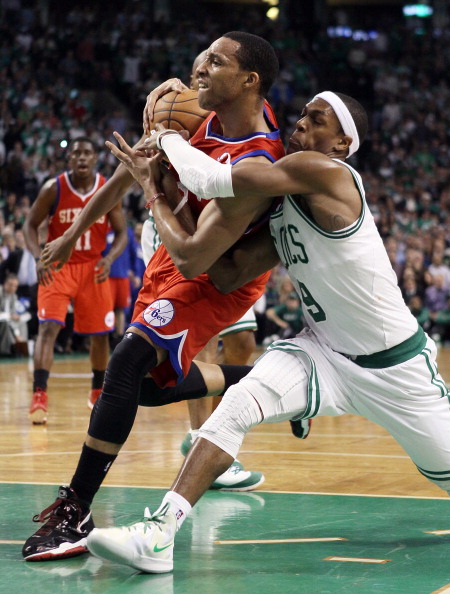 Evan Turner lead the Sixers to the win Monday night. (Getty Images)
For years, the Sixers have needed someone to step up and make a big play, hit a big shot at the end of games. There have been flashes throughout the season that young
Evan Turner
, having recovered from a terrible rookie season. He played so well late that he wound up starting for a time. Monday, against a
Celtics
team that had been daring anyone for
Philadelphia
to go at them and who had honestly dogged it for much of an absoutely putrid game, the Sixers found someone to step up.
Enter the Villain. Evan Turner.
Turner defended
Kevin Garnett
in the post late in the game in a one-point game (think about that), made huge play after huge play, and when the Sixers needed that score, the big bucket to put them over the top, Turner stepped up and through.
Observe:
That's a pretty big time move for a young guy like that. The Sixers need more of this if they're going to pull off yet another huge upset, this time without the benefit of a major injury. They need someone to assert themselves and take on the slower perimeter defense of the Celtics. Turner was that player on Monday, and he's got to duplicate it.
Maybe most impressive is that Turner managed to do it after Garnett dunked over him and shoves his torso into Turner by hanging on the rim. Turner has long been known as a feisty, emotional player, and he seemed to respond to the kind of angry challenge the Celtics brought. Turner had just ten points on 11 shots, but he had six of them in the fourth, in a game that was slow and ugly. Those were huge points.
The Sixers needed a hero. They got the Villain.