Derrick Rose to miss first two months of the 2012-13 season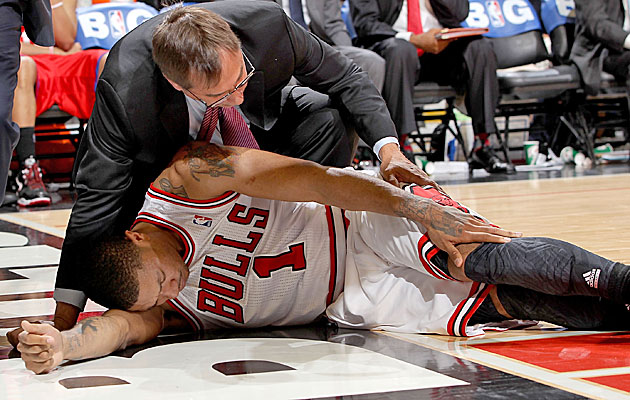 The last time we saw Rose on the floor, he wasn't getting up on his own. (Getty Images)
Derrick Rose
underwent surgery on his torn ACL last weekend, giving him a 6-9 month timetable. Which means,
according to the Sun-Times
, that Rose is out for at least the first two months of the 2012-13 season.
Bulls guard Derrick Rose underwent surgery to repair the torn anterior cruciate ligament in his left knee Saturday morning at Rush University Medical Center. .... The usual recovery time for someone undergoing ACL surgery is 6-9 months. The Sun-Times has learned that Rose was told to expect an eight-month rehabilitation, which would allow him to return to the Bulls in late December or early January.
No big surprise there, as that's just the timetable. But when you see it like that, it's kind of stunning. Rose missed the end of the Bulls season, in which they lost in six games to the 76ers, will miss the Olympics and is out at least the first two months of next season. This injury is having an affect on three major events for Rose.
The surgeon for Rose, Dr. Brian Cole, said the surgery went "extremely well."
"It's impossible to predict tomorrow," Cole said. "Statistically, he should be that player and then some. That doesn't mean he's guaranteed. It's a whole lot better than we were accustomed to years ago. The ligament is one thing and the meniscus is another. Getting all the things to heal appropriately is really our goal in the early phases. Then, it's rehab, conditioning - getting his brain connected to his knee, basically."

Cole also said that Rose can still be an explosive player, which is a great thing to hear. Cole said Rose could potentially get back sooner than mid-January but "we're not going to rush it."
But it's about coming back strong and healthy, so there's no reason to rush. The Bulls showed this season they can survive in the regular season without Rose, so the team will likely be in good shape when he does return.