Report Card 5.15.12: Pacers pass, while the Spurs soar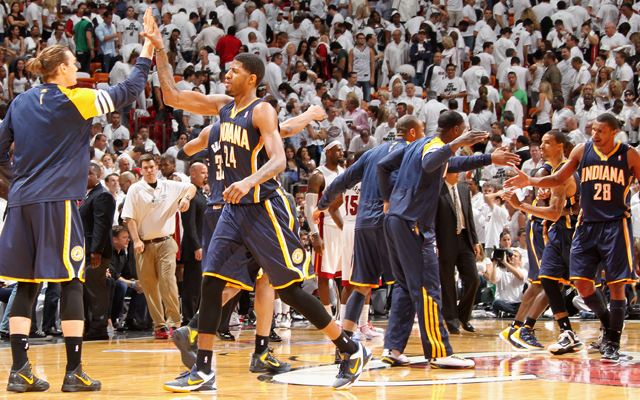 The Pacers eeked one out and then got out of town.
(Getty Images)
Each night, Eye on Basketball brings you what you need to know about the games of the NBA. From great performances to terrible clock management the report card evaluates and eviscerates the good, the bad, and the ugly from the night that was.

| | | |
| --- | --- | --- |
| | San Antonio Spurs | The outcome was ultimately expected as the Spurs dispatched the Clippers without much resistence in Game 1. The 3-point line treated them well as they drilled 13-25 from deep, and shot 48.8 percent overall. Scoring was balanced, Tim Duncan was brilliant and the bench added its usual fill. All in all, a very Spurs performance. If there was anything to pause over, it's the 18 turnovers which helped keep the Clippers within striking distance, but unlike some other teams, the Spurs never completely caved. |
| | Indiana Pacers | Winning a game where you shoot under 40 percent isn't ideal, but at this point, the Pacers will take it however they can get it. They needed to steal a game in Miami, and the opportunity was afforded. No Chris Bosh for the Heat which opened the door for the Pacers to crush the boards and find points in any manner available. They won a game on the road against the Heat in which Danny Granger shot 5-14 and Roy Hibbert scored only eight points. I think that's a good sign for their prospects going forward, but it also means that there's a wide open walkway for the Pacers to take this thing, but they have to step it up. |
| | Los Angeles Clippers | Coming in on short rest after their seven-game series against the Grizzlies as well as not totally healthy had them against the wall to start, but they showed relatively well. Chris Paul didn't play well, Blake Griffin was inconsistent, but Eric Bledsoe stepped up in a big way providing a nice spark and something to feel good about going forward. They hung tough, stayed in the game despite San Antonio's barrage of 3s and were a 6-0 run away from making it interesting down the stretch. I think there's reason to be encouraged for the Clips despite being down a game. |
| | Miami Heat | It was a downright awful performance. Shooting 34 percent in a playoff game shouldn't have you close, but the Heat were there. Missed free throws, missed layups, missed opportunities. Despite playing a terrible 48 minutes, Miami had a good chance to win. I'm not sure if they should feel good about that or not because it was obvious they missed Chris Bosh. Still, subpar efforts from Dwyane Wade and LeBron down the stretch and they were only a couple buckets away from being up 2-0. |