Heat-Pacers Game 3 Preview: Series shifts to Indiana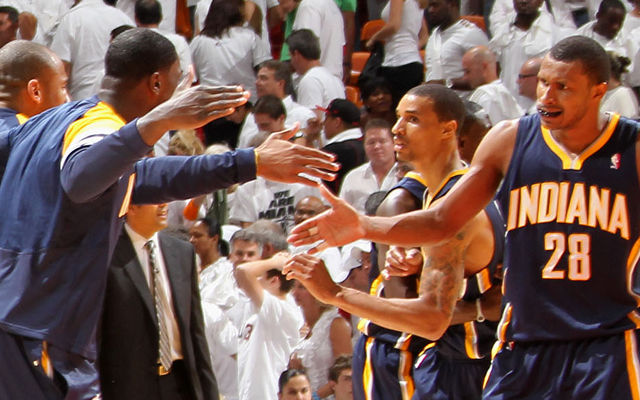 The Pacers were loving life after a Game 2 victory over the Heat.
(Getty Images)
Previewing Game 3 of the Eastern Conference semifinals series between the Miami
Heat
and the Indiana Pacers on Thursday night.
1. Where We're At:
The series is tied up 1-1 after Indiana pulled out a road win in an ugly Game 2 on Tuesday night. Miami could easily be up 2-0 and probably should be given how poorly Indiana shot in Game 2 and how many different ways Miami screwed up in the closing minutes. But this series is far from decided and could go either way now that Chris Bosh is out indefinitely with an abdominal strain. Game 3 figures to be the first of a few hinge games.
2. The Big Number:
5. That's the most scoring production Miami got from anyone not named
LeBron James
or
Dwyane Wade
in Game 2.
Mario Chalmers
had 5 points on 2-for-10 shooting while
Shane Battier
added 5 points on just two shots. Nobody else topped four points even though 10 Heat played played 10+ minutes. We knew the burden on James and Wade would be huge following the loss of
Chris Bosh
but those numbers are ridiculous. Someone needs to emerge: Chalmers, Battier,
Mike Miller
and
James Jones
are the most likely candidates. Credit Indiana's perimeter defense for denying easy looks.
3. Key Adjustment:
Believe it or not, the Heat need James to do even more even though he practically did it all in Game 2, putting up a line of 28 points, 9 rebounds, 5 assists and 6 steals on a night when his team managed just 75 points. Mostly, they need him ball-handling and reading defenses down the stretch. In both of the Heat's postseason losses, James has watched on the game-deciding possessions. Against the New York Knicks, he stood in the corner while Wade launched a three. In Game 2, he was essentially a decoy as Miami ran a play to set up a three for Chalmers. Trying to avoid Hero Ball is laudable but making the MVP invisible for no good reason is clearly not. There's a difference between smart basketball and over-thinking.
4. The Big Story:
James and Wade played a combined 80 minutes in Game 2, and Heat coach Erik Spoelstra admitted he doesn't have much choice but to run his remaining stars into the ground. Down the stretch, both James (missed free throws) and Wade (1-for-5 from the field late in the game) faltered. How they manage the heavy minutes and two-way responsibilities against a big, physical and deep Pacers team on the road will be Game 3's leading subplot.
5. The Facts:
7 p.m. ET start time at Bankers Life Fieldhouse. Chris Bosh is out indefinitely with an abdominal strain.