NBA Playoffs Report Card 5.17.12: Thunder good enough to win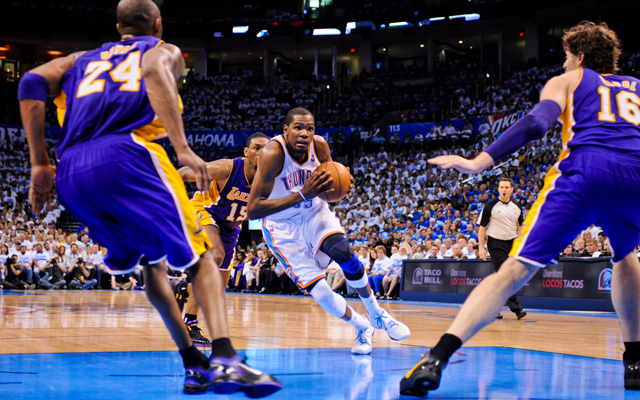 The Thunder weren't flawless, but good enough Wednesday night.
(Getty Images)
Each night, Eye on Basketball brings you what you need to know about the games of the NBA. From great performances to terrible clock management the report card evaluates and eviscerates the good, the bad, and the ugly from the night that was. Compiled Wednesday night by Ben Golliver and Matt Moore.

| | | |
| --- | --- | --- |
| | Boston Celtics | There is a country for old men, and it is a winning country. The Celtics weren't flawless Wednesday night, but they were vintage Celtics. Kevin Garnett and Rajon Rondo set the tone, blistering the Sixers' defense with mid-range jumpers and attacks at the rim. Paul Pierce worked his way to the line a ton, and the Celtics made the Sixers a wholly mediocre offense. It was a game to re-establish control and the Celtics grabbed momentum by the throat, slung it over their shoulder, and walked into the night with it. -- MM |
| | Oklahoma City Thunder | The Thunder saved their worst performance of the postseason with a dramatic 9-0 comeback in which everything went right on both sides of the ball. You steal that game one out of 20 times and the rest of the night was so choppy that Oklahoma City leaves this one feeling way more relieved than proud. OKC struggled from the field all night and was way too hesitant and passive when it came to shot selection. They also turned the ball over 13 times with Kevin Durant and James Harden combining for nine. Both made up for those miscues with some excellent play-making in the game's final stretch but this was a "by the skin of their teeth" victory rather than the total domination they displayed in Game 1. With the win in hand and the undefeated postseason record still intact, this might seem like nitpicking. But OKC was a minute or so away from looking at a totally different series against a lesser opponent. Now, they just need two wins in five tries, a task that seems like a molehill rather than a mountain. -- BG |
| | Los Angeles Lakers | L.A. has to be happy that the pace slowed down, that they won the rebounding battle, that they kept all three of OKC's stars from going off and that both of their big men nearly put up double doubles. Those are all winning indicators and a score in the 70s seemed unfathomable in this series heading into Wednesday night. Unfortunately, a series of excruciating turnovers and forced shots ruined the night, and Kobe Bryant was the main culprit. L.A. leaves this game with the looming question: If they weren't able to produce a win in this type of a game, where will the win come from? Is it reasonable to expect another quiet 5-for-17 night from Russell Westbrook? -- BG |
| | Philadelphia 76ers | If any of the Sixers are reading this, we have a very important message from their mothers. Ahem. "Kevin Garnett is going to nail the 18-foot jumper as long as you keep leaving him open! Do not leave him open!" The Sixers were just uninspired Wednesday night, allowed the Celtics to just turn on the controls and drive them into the gutter. They were outplayed and outsmarted at every turn by Boston and looked like they didn't belong for the first time in the playoffs since Game 1 of the Bulls' series. Game 4 is now a must-win. -- MM |