Report: Warriors shopping lottery pick for small forward upgrade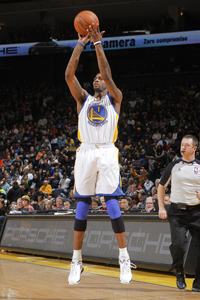 Dorell Wright could be moved if the Warriors look to upgrade.
(Getty Images)
The Warriors aren't so much rebuilding as reshaping their team. They traded
Monta Ellis
for
Andrew Bogut
, then shut down the pair for the season to tank out and try and keep their pick. They also eventually shut down
David Lee
for the same reason and have put all their efforts into changing the team's roster, culture and identity.
And now the
San Jose Mercury News
reports that they could be looking to trade possibly even their lottery pick (should they keep it) to upgrade their small forward position.
Presuming the Warriors don't get jumped in the May 30 lottery and are able to keep their own first-round pick (if it's top-7 they keep it), there are strong indications that they're logically eyeing a big upgrade at small forward.

I think that's a natural product of the draft's depth at SF and the basketball operation staff's belief that SF is the GSW's biggest positional need, if they can get a true play-maker and/or defensive force.

...

That means, the GSWs, if they keep their own pick, would either draft the best SF available in the top-7 or see if they can trade the pick for an established young veteran.
via Warriors' SF update: San Francisco, small forwards, and more | Talking Points.

The Warriors have the seventh pick in the draft currently. If their pick falls to No. 8, they lose it to Utah. So in order for that to happen, a team with a pick between 8 and 14 have to hit the lottery and land a top three spots, and Golden State can't land in the top three at the same time. The Warriors would be bumped down and lose the pick.

Were they to keep the pick, considering the strength of the top 10, it's possible they could pick up an upgrade, if packaged with Andris Biedrins' contract which is only guaranteed throuh 2013, and Dorrell Wright or another player of value. Wright is a crack shooter who could be succesful in a better defensive system.

One thing's clear, the Warriors are looking to continue making dramatic changes to their team. This team will look nothing like it did on opening day this season when the 2012-2013 season starts.