Lakers G Kobe Bryant to critics: '[Expletive] you'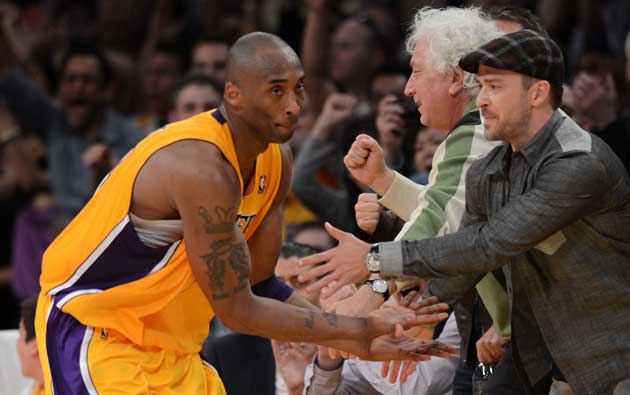 Kobe Bryant embraces the high fives and blocks out the negativity.
(Getty Images)
In Game 2 against the Oklahoma City
Thunder
, Los Angeles
Lakers
guard Kobe Bryant shot 9-for-25 in a losing effort. In game 3, he shot 9-for-25 in a winning effort. In Game 2, he made a number of crucial miscues down the stretch. In Game 3, he paraded to the foul line over and over, hitting 18 free throws to seal the win.
In Game 2, he was the goat. In Game 3, the hero. The five-time champion has been hitting big shots and missing big shots for long enough to know that the story can change within 24 hours. So, following the Game 3 win, he seized the opportunity to make it clear that he couldn't care less about what media members have to say when he comes up short.
Yahoo Sports with the memorable, profane quotes
.
"I don't give a [expletive] what you say," Bryant told Yahoo! Sports late Friday. "If I go out there and miss game winners, and people say, 'Kobe choked, or Kobe is seven for whatever in pressure situations.' Well, [expletive] you.

"Because I don't play for your [expletive] approval. I play for my own love and enjoyment of the game. And to win. That's what I play for. Most of the time, when guys feel the pressure, they're worried about what people might say about them. I don't have that fear, and it enables me to forget bad plays and to take shots and play my game."
Strong words. Really strong words. Although a bit over the top, Bryant is credible and authentic here. It's difficult to imagine any other NBA players -- save maybe Kevin Garnett -- getting away with that type of profane, anti-media stance without becoming a target of more criticism. (Can you imagine if LeBron James tried this?) But Bryant is ideally positioned to take this stance without second-guessing: he has a winning resume, he's cultivated a "clutch" reputation, and he's not lying or fronting in the slightest when he says he's fearless.
This just adds to the gunslinger mythos that will serve as the lasting memory of Bryant once he's retired. He shot when he wanted, how he wanted, how often he wanted and against anyone and everyone. He made no apologies or excuses. He let the results speak for themselves.
The reminder here: it's truly remarkable the range of stories that 9-for-25 can tell.