Celtics-Heat Game 1 Report Card: The King came to play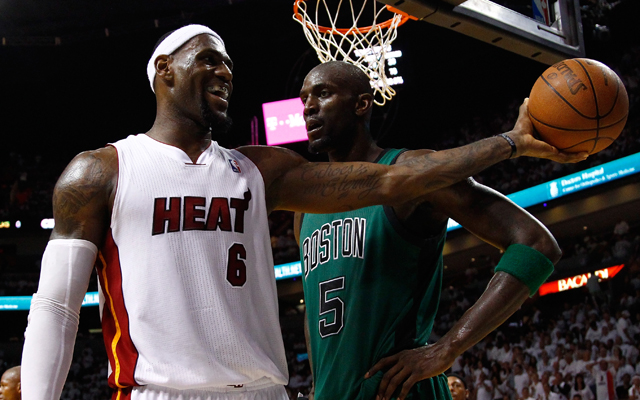 Miami got the last laugh in Game 1. (Getty Images)
Each night, Eye on Basketball brings you what you need to know about the games of the NBA. From great performances to terrible clock management the report card evaluates and eviscerates the good, the bad, and the ugly from the night that was.

Miami Heat
That's right. They won by 14 and it's very easy to say that the Heat could have played better. They shot 20 percent from the arc. Dwyane Wade had a quiet first half. Kevin Garnett torched them. There were a lot of shots that wound up against the shot clock. The pace was far slower than the Heat want, and they only won the transition points by five.

And they still won. The Heat were great because LeBron James and Dwyane Wade were spectacular. Time and time again in the second half, the two superstars would either whip by their defender to get to the rim, or pick and roll to find themselves on a switch and nail shots only they can hit on Kevin Garnett. Their defense swallowed the Celtics whole. The offense clicked enough. They won comfortably. A ho-hum win for an Eastern Conference Finals game.
LeBron James
Again, ho-hum, 32 points, 13 rebounds. Just three assists for the MVP. Slow night. The best thing about James was how complete it was. He never looked tired, and very, very rarely settled for the jumper. He is playing at a nexus-level of his abilities. He even punished the Celtics inside in the post. We thought the Celtics' defense would hurt James more than the Pacers' would. James operated at nearly the same level.
Paul Pierce
Couldn't hit from the floor. Didn't commit to working the post. Couldn't find those hidden shots he usually does. Couldn't create separation. And defensively was nowhere to be seen. It was a night to forget for the Truth.
Officiating
Look, in all honesty the Celtics got the kind of game they want. Interior contact was allowed, perimeter play yielded reach-ins. That's what the Celtics want. That the Celtics balked so much is more an indication of how much faster the Heat were to every maneuver.

But you can't have those kind of techs. Two are likely to be rescinded, Doc Rivers' almost assuredly so. They have to contain their emotions just like the players do. The calls weren't bent one way or another Monday night. The Celtics hung themselves. But the technicals need to relax. It casts a pall on the series.
Boston Celtics
I want to give them an "O" for "Old." Some games the Celtics don't look it. Monday night they did. They couldn't close out on the Heat's drives, they left shooters open, they couldn't contest at the rim, they had their shots blocked, they couldn't get lift on their jumpers, and by the end of the game, looked run-ragged. And all this in a very slow-pace game. What happens if Miami gets out and runs more?

There's room for improvement and the Celtics were right there at halftime, tied. But it wasn't mental errors or effort that doomed the Celtics. It wasn't executed. They executed to a decent level of their ability.

Their good just wasn't good enough. They'll have to be great in Game 2.
Ray Allen
I want to judge Allen based on a curve, considering the amount of pain he's playing through with bone spurs in his ankle. I want to point to his four missed free throws as a sign he clearly isn't right. I want to give him a pass. But this is the playoffs, the Eastern Conference Finals, and there can be no merit badges.

Allen couldn't do it. Maybe he won't be able to again. Maybe he will. But it's not about the shots. It's the little things that are murdering Boston. It's Dwyane Wade cruising by him at half speed in the open court. It's him not being able to catch himself and recover when Wade catches on the perimeter and darts into the lane. It's his inability to get into his shooting motion before the defense closes.

So why didn't he get an F? Because Allen adjusted as much as possible to contribute. He made the extra pass. He dove for offensive rebounds. He tried to penetrate to free up other players. He did what he could. It just wasn't enough. Rough to see such a great player in Allen struggling like this.
Ronny Turiaf and Joel Anthony
7 measley points combined. 11 lowly rebounds combined. So why such high marks for the Heat bigs? They did their jobs exceptionally well. They attacked and attacked and attacked the Celtics again and again inside. The paint was supposed to be where Boston could dominate. The Heat turned that into an advantage with the play of Turiaf and Anthony. Great job by unexpected contributers defensively Monday night.