Vinny Del Negro to return as Clippers coach next season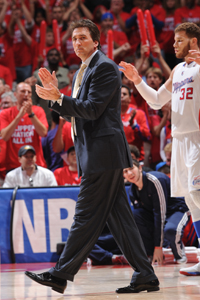 Despite some turbulence this season, Vinny Del Negro will be back with the Clippers in 2012-13.
(Getty Images)
After a season spent mostly on a very hot seat, Vinny Del Negro will return next year as head coach of the
Clippers
, the team announced Tuesday.
Del Negro had a team option exercised on his contract, which means he's only under terms through 2012-13 with the team.
A much embattled coach throughout the season, Del Negro oversaw one of the more successful seasons in Clipper history. The team won 40 games in the regular season, finished second in the Pacific Division and advanced to the second round of the playoffs, where they were swept by the Spurs.
Del Negro was endorsed by owner Donald Sterling during the season as chatter began to bubble that his time with the team was coming to an end. But the Clippers responded, winning six straight and thus saving Del Negro's job.
With big names like Stan Van Gundy and Mike D'Antoni floating on the market, as well as Scott Brooks, who is up for an extension in Oklahoma City, it might seem a bit curious as to why the Clippers retained Del Negro. One potential reason: He's going to cost a whole lot less than pursuing and landing one of those bigger names.
The pressure will be on next season for Del Negro as the team looks to build off the success of this campaign. With
Chris Paul
's contract up at the end of next season and
Blake Griffin
's future in doubt, the Clippers will need to press forward. Del Negro has his job still, but I'm sure the leash will be very short.