2012 NBA Draft Lottery odds and draft order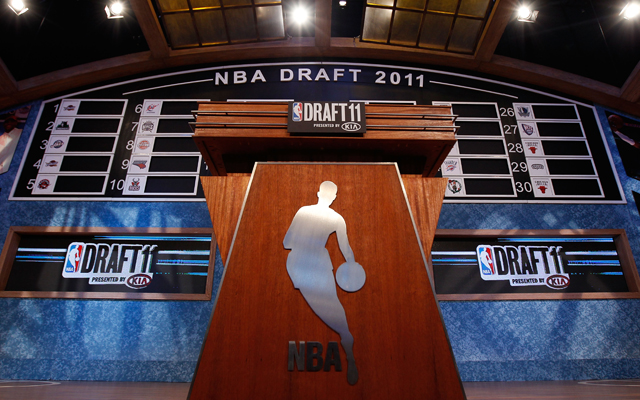 The draft lottery Wednesday night can alter franchise history.
(Getty Images)
The NBA Draft Lottery will be held Wednesday afternoon with the results revealed at 8 p.m. ET. Here are the odds for each of the lottery teams and the rest of the draft order. We'll have complete analysis following the lottery Wednesday night.
| | | |
| --- | --- | --- |
| Lottery/Draft selection | Team | Odds (percent chance at top pick) |
| No. 1 | Charlotte Bobcats | 25% |
| No. 2 | Washington Wizards | 19.9% |
| No. 3 | Cleveland Cavaliers | 13.8% |
| No. 4 | New Orleans Hornets | 13.7% |
| No. 5 | Sacramento Kings | 7.6% |
| No. 6 | Brooklyn Nets or Portland Trail Blazers (top 3 protected for Nets) | 7.5% |
| No. 7 | Golden State Warriors or Utah Jazz (top 7 protected for Warriors) | 3.6% |
| No. 8 | Toronto Raptors | 3.5% |
| No. 9 | Detroit Pistons | 1.7% |
| No. 10 | New Orleans Hornets (via Minnesota Timberwolves) | 1.1% |
| No. 11 | Portand Trail Blazers | .0.8% |
| No. 12 | Milwaukee Bucks | 0.7% |
| No. 13 | Phoenix Suns | 0.6% |
| No. 14 | Houston Rockets | 0.5% |
| No. 15 | Philadelphia 76ers | -- |
| No. 16 | Houston Rockets (from New York Knicks) | -- |
| No. 17 | Dallas Mavericks | -- |
| No. 18 | Minnesota Timberwolves | -- |
| No. 19 | Orlando Magic | -- |
| No. 20 | Denver Nuggets | -- |
| No. 21 | Boston Celtics | -- |
| No. 22 | Boston Celtics | -- |
| No. 23 | Atlanta Hawks | -- |
| No. 24 | Cleveland Cavaliers | -- |
| No. 25 | Memphis Grizzlies | -- |
| No. 26 | Indiana Pacers | -- |
| No. 27 | Miami Heat | -- |
| No. 28 | Oklahoma City Thunder | -- |
| No. 29 | Chicago Bulls | -- |
| No. 30 | Golden State Warriors (from San Antonio Spurs) | -- |