2012 NBA Draft: Jeff Goodman Mock Draft Version 3.0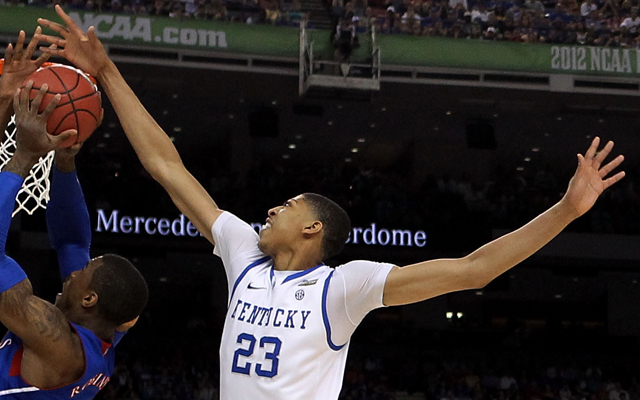 Anthony Davis is most likely headed to the Bayou.
(Getty Images)
Jeff Goodman's 2012 NBA Mock Draft following the NBA Draft Lottery on May 30th, 2012.
NBA Mock Draft - 5/30/2012 (Updated: 6/6/2012)
Round 1
1. New Orleans Hornets
Anthony Davis, PF/C, Kentucky: The Hornets won the lottery and get the future star. Davis is a shot-blocking freak, but is also skilled on the offensive end -- and can be a franchise-changing player.
2. Charlotte Bobcats
Bradley Beal, SG, Florida: The Bobcats need just about everything -- which is why the Bobcats could use a guy like Beal. He is extremely versatile -- and his biggest strength is his ability to shoot the ball from the perimeter.
3. Washington Wizards
Andre Drummond, C, Connecticut: It's difficult to pass up on someone as big, strong and talented as Drummond. He can be a monster -- if Randy Wittman can find a way to motivate him to play hard all the time.
4. Cleveland Cavaliers
Harrison Barnes, SF, North Carolina: The Cavs need a perimeter shooter -- and that's exactly what Barnes does well. He's also extremely tight with Cavs floor leader Kyrie Irving. In fact, they even share the same agent.
5. Sacramento Kings
Michael Kidd-Gilchrist, SF, Kentucky: MKG brings a winning attitude and a toughness to the table. He's a team guy who can really get after it on the defensive end. The Kings have enough scorers. This is the ideal fit.
6. Portland Trail Blazers (from Brooklyn)
Thomas Robinson, PF, Kansas: T-Rob is an ideal complement to the skilled Lamarcus Aldridge. Robinson is a relentless power forward who will rebound and become a decent scorer due to his pursuit of the ball.
7. Golden State Warriors
Jared Sullinger, PF, Ohio State: The Warriors need help down low -- and Sullinger can score in the post and will be a force on the glass.
8. Toronto Raptors
Jeremy Lamb, SG, Connecticut: The Raptors desperately need someone that can fill it up from the perimeter. As long as Lamb doesn't have to be "The Man," he'll be fine. Tremendous potential and he will give Dwayne Casey a much-needed sniper.
9. Detroit Pistons
Tyler Zeller, PF/C, North Carolina: Zeller is a solid pick here. He runs the court exceptionally well, can score in the post and is a good rebounder. He's also capable of being a pick and pop power forward.
10. New Orleans Hornets (from Minnesota through L.A. Clippers)
Meyers Leonard, C, Illinois: The Hornets have a can't miss guy already in Davis. Why not roll the dice on another big-time talent in Leonard, a legitimate 7-footer who is a freak athlete and could become a top-tier center in the league if he matures.
11. Portland Trail Blazers
Damian Lillard, PG, Weber State: The Blazers could lose both Raymond Felton and Jonny Flynn, so they need a point guard. Lillard is a scoring point who is the highest-rated floor leader in a weak crop of points.
12. Milwaukee Bucks
Terrence Jones, PF, Kentucky: You can't let a talent such as PJ3 slide any further. Is he tough? No. But he's long and skilled -- and the Bucks need someone up front who can provide length and scoring.
13. Phoenix Suns
Austin Rivers, SG, Duke: Doc's kid can really score the ball -- and he's also got the swagger that's needed to be successful in the NBA.
14. Houston Rockets
John Henson, PF, North Carolina: The Rockets need a rim protector and that's what Henson can provide. He's not ready to impact the NBA game yet on the offensive end, but he's long and alters shots.
15. Philadelphia 76ers
Arnett Moultrie, PF, Mississippi State: One of the elite rebounders in this draft. Has the size and the body to help Doug Collins up front.
16. Houston Rockets (from New York)
Kendall Marshall, PG, North Carolina: It looks like Kyle Lowry's days are over in Houston. Kevin McHale needs a point guard. No one is better than setting up their teammates than Marshall.
17. Dallas Mavericks
Dion Waiters, SG, Syracuse: This would be a steal if Waiters slips this low. He would give the Mavs a strong and athletic combo guard who could ultimately replace Jason Terry.
18. Minnesota Timberwolves (Utah)
Terrence Ross, SG, Washington: The T'Wolves could use another athletic wing to go along with Wesley Johnson. Ross is the ideal pick here and would mesh well with Kevin Love and Ricky Rubio.
19. Orlando Magic
Terrence Jones, PF, Kentucky: The Magic already have Daniel Orton and DeAndre Liggins. Why not stockpile former UK guys? Actually, Jones is the best player left on the board.
20. Denver Nuggets
Moe Harkless, SF, St. John's: An athletic wing who has loads of potential. His shot will improve with time.
21. Boston Celtics
Jeffrey Taylor, SF, Vanderbilt: The Celtics need to get younger and more athletic. Taylor has the size, athleticism and an improved perimeter game that could be exactly what Boston needs.
22. Boston Celtics (From L.A. Clippers through Oklahoma City)
Royce White, PF, Iowa State: He's a bit undersized, but he can really play. A big, strong point forward who brings toughness to the table. High IQ guy who makes those around him better.
23. Atlanta Hawks
Fab Melo, C, Syracuse: The Hawks could use a big man and Melo really made strides this past season. Will never be an offensive threat, but Atlanta needs a rebounder and interior presence.
24. Cleveland Cavaliers
Will Barton, SG, Memphis: The Cavs just need talent. Barton needs strength, but he's tough and can score the ball.
25. Memphis Grizzlies
Doron Lamb, SG, Kentucky: The Grizzlies could use a dead-eye shooter -- and that's what Lamb is about. He can also back up Mike Conley Jr. at the point.
26. Indiana Pacers
Festus Ezeli, C, Vanderbilt: The Pacers could use another big body and Ezeli is a much-improved legitimate center who could help spell Roy Hibbert.
27. Miami Heat
Marquis Teague, PG, Kentucky: Imagine Teague's speed playing with LeBron and D-Wade. Could be just the piece that the Heat need.
28. Oklahoma City Thunder
Andrew Nicholson, PF, St. Bonaventure: The Thunder could use a skilled guy who can score on the block. Nicholson can actually score from anywhere on the court. The Canadian just needs to get stronger
29. Chicago Bulls
Tony Wroten, PG, Washington: A big-time talent with tremendous court vision, Wroten could be a quality backup to Derrick Rose and also play some two-guard if his perimeter shot improved.
30. Golden State Warriors (from San Antonio)
Evan Fournier, SG, France: Not a big-time athlete, but is a skilled scorer who has produced at the highest level overseas.