Celtics-Heat Game 3: Dwyane Wade reverts back to Bruce Wayne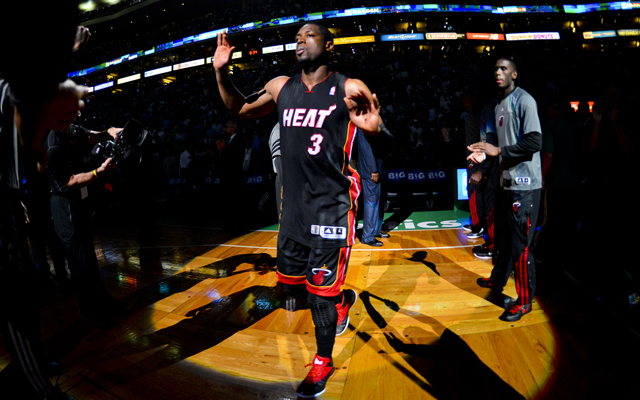 Dwyane Wade stepped out of the spotlight and into the dark in Game 3.
(Getty Images)
I don't tend to think of
Dwyane Wade
and
LeBron James
as Batman and Robin. Neither one is the ward (which is just weird and creepy to be honest, there, Bats) of one another. They're more like Batman and Superman. They're both superheroes in the NBA, teaming up. And they can both be annoying. Superman because, let's face it, smug square-jawed guy think he's so much better than everyone and Batman's always brooding and being overdramatic.
Anyway, the funny thing happens when you take the cape off Superman's shoulders. He's still dominant. (The fourth quarter of the Finals is his kryptonite, if you must have your clutch jokes here.) But without the gadgets and the cowl, Batman is a spoiled rich kid with too much angst.
And so it was for Dwyane Wade in Game 3 vs. Boston.
Wade was the worst of all worlds, and without
Chris Bosh
, on the road where the
Heat
role players can't be trusted, when the
Celtics
were swarming and hitting shots and turning this into an unlikely shootout, Wade brought no bullets to the fight.
He was tentative. He waited too long on the catch, trying to figure out a Celtics defense that made adjustments to frustrate and attack him. And in the fourth quarter, with the Heat having crawled back into the game, a key sequence occurred. Wade drove the lane and Wade was fouled. It was pretty clear. Much like Wade's foul on Rondo in Game 2 was, and not called either. Wade turned and put his hands up begging the officials for a call they're clearly not going to make.
Rajon Rondo
sped down the floor, took advantage of a defense out of position, and scored. And-one. Game over. Slam the door.
2-1, with another game in Boston on Sunday.
Wade can't play like that. If he's not getting the calls, he has to live with it. He was rattled by the defense. And yet he didn't move to post
Ray Allen
. He didn't use his screens well. He made poor decisions, and let the Celtics take the fight to him. So we return to where he was after Game 3 of the
Pacers
series, wondering where Batman went and how long the Heat can survive with Bruce Wayne getting knocked around.
How he responds in Game 4 will determine if Miami can put the chokehold back on Boston or if this thing is going the distance.