Report: Chris Bosh to be activated for Game 5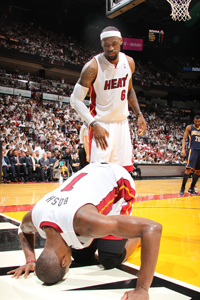 Chris Bosh could return for Miami Tuesday. (Getty Images)
Help is on the way.

Chris Bosh is expected to be activated for Game 5 between the Celtics and Heat Tuesday, according to ESPN.com.

Bosh traveled with the team to Boston and continues to rehabilitate from an abdominal injury suffered on May 13 in Game 1 of the Eastern Conference semifinals against the Indiana Pacers. He's undergone multiple rehab-oriented workouts over the last week but is still listed as "out indefinitely."

The expected timetable for an abdominal strain is 4-6 weeks.

The Heat started the Eastern Conference finals 2-0 over the Celtics, but have dropped the last two games evening the series as it returns to Miami. Obviously adding Bosh back to the mix would be key as Kevin Garnett has averaged 20.5 points and 10.8 rebounds in the four games.

How he'd re-adjust to the team as it has undergone changes and become more of a two-man structure between LeBron James and Dwyane Wade is unknown though.

"We'll gladly cross that bridge when we get there," Heat coach Erik Spoelstra said Friday, according to CBSSports.com's Ben Golliver. "I hope we get to that point. Right now, I love you, Chris, but it continues to be our focus on who we have right now... If we get to that point, I'll gladly take that quote, unquote challenge to work him back."

Well, prepare for the "challenge" then, Spo.

Bosh, 28, averaged 18.0 points and 7.9 rebounds per game for the Heat this season. He appeared in 57 of Miami's 66 regular-season games.