Heat F Chris Bosh is 'day to day' but expected to play in Game 5 vs. Celtics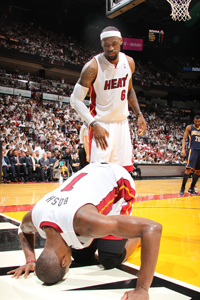 Chris Bosh could return for Miami on Tuesday. (Getty Images)
MIAMI -- The long wait could be over.

Shortly after Miami's Game 4 loss on Sunday evening, ESPN.com reported that Heat All-Star forward Chris Bosh is expected to play during Game 5 of the Eastern Conference finals against the Boston Celtics at AmericanAirlines Arena on Tuesday night. Bosh has been sidelined for three weeks with an abdominal strain and has not played in Miami's last nine games.

Heat coach Erik Spoelstra said Monday during a media conference call that Bosh is now officially considered "day-to-day" and that he will undergo further evaluation on Monday before a determination is made regarding his status for Game 5. Prior to Monday, Bosh had been listed as "out indefinitely."

"He's making significant progress," Spoelstra said. "But to say [that a Game 5 return] is definitive right now is premature."

The series between the Heat and Celtics is tied at two games apiece.

Celtics coach Doc Rivers said during a media conference call on Monday that his team would be ready in the event that Bosh does return on Tuesday.
"We don't have to do everything different," he said. "We've prepared every game like Bosh is going to play. Eventually he will and maybe it will be [Tuesday]."
Bosh traveled with the Heat to Boston for Game 3 on Friday and Game 4 on Sunday, both losses, as he continues to rehabilitate from the abdominal injury suffered on May 13 in Game 1 of the Eastern Conference semifinals against the Indiana Pacers. He's undergone multiple rehab-oriented workouts and participated in Heat shootarounds over the last week.

During the regular season, Miami was 42-15 when Bosh played and 4-5 without him. During the postseason, Miami is 5-1 when Bosh played and 5-4 without him.

With Bosh during the playoffs, Miami has averaged 96.5 points and allowed 83.3 points. Without Bosh, Miami has averaged 95.7 points and allowed 91.7 points. Of course, Bosh was available against the No. 7 seed New York Knicks, mostly unavailable against the No. 3 seed Indiana Pacers and has not yet been available against the No. 4 seed Boston Celtics.
A Bosh return would require an adjustment period on both sides of the ball for Miami, as James and Wade have stepped up to do more in his absence.

"We'll gladly cross that bridge when we get there," Heat coach Erik Spoelstra said on Friday, when asked how his team might adjust to a Bosh return. "I hope we get to that point. Right now, I love you, Chris, but it continues to be our focus on who we have right now. ... If we get to that point, I'll gladly take that quote, unquote challenge to work him back."

Bosh, 28, averaged 18.0 points and 7.9 rebounds per game for the Heat this season. He appeared in 57 of Miami's 66 regular-season games.

Bosh is averaging 14.7 points, 6.8 rebounds and 1.0 assists in six postseason appearances.