Celtics-Heat Game 6: Open season on the Miami Heat yet again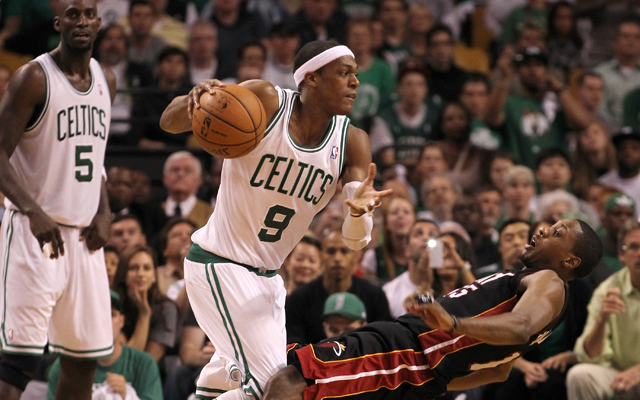 The Celtics are on the verge of dropping the Heat for good and moving on to the Finals.
(Getty Images)
Previewing Game 6 between the Miami Heat and the Boston Celtics in the Eastern Conference Finals.


1. Where We're At:
Oh, hey look. It's the first week of June and the Heat are falling apart. Well, at least they're consistent. The Heat are down 3-2 and are on the road in one of the toughest environments in the league, TD Northbank. The Celtics don't just have confidence, they are assured that they are in Miami's head and they have them by the sensitive parts. Expect a Boston choke out-out tonight, with the Heat doing their part to facilitate.
2. The Big Number:
No. 6.
LeBron James
has his entire legacy on the line tonight, as he has in every big game he's played in. Ken Berger relates how he disappeared in the fourth quarter of Game 5. Will he have the same vanishing act? What ridiculous thing will he say after? No matter how badly the rest of his teammates play, this game is on James. It's open season on the Chosen One yet again.
3. Key Adjustment:
The Heat have been unable to effectively defend
Kevin Garnett
. At all. In any way. Ever. They are getting murdered by Garnett in space, at the rim, in the post. He's slaughtered them end to end, and their tactic of fronting was figured out three games ago, yet Erik Spoelstra keeps throwing the same tactics out there. If the Heat keep putting their faith in an outmatched and outsized
Udonis Haslem
, bad things are going to happen. Like them going home.
4. The Big Story:
Come on. This one's a breeze. The downfall of LeBron James and the Miami Heat for a second straight season. People will talk about Boston later. First will be joy from the masses in the downfall of the most hated team in the land.
5. The Facts:
8:30 p.m. EST.
Chris Bosh
is expected to get more minutes in Game 6, still recovering from the abdominal strain. The rest of both teams are as healthy as they can can be, which is not very, considering the status of
Mike Miller
,
Dwyane Wade
,
Avery Bradley
, and
Ray Allen
.