Larry Bird plans to return as Pacers president and promote Kevin Pritchard to GM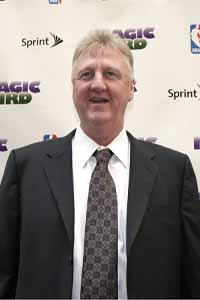 Larry Bird plans to head back to the Indiana Pacers.
(Getty Images)
The future of the Indiana
Pacers
' basketball operations department has been the subject of some confusion, with reports that president Larry Bird might retire this summer and with multiple internal candidates, as well as former executive Donnie Walsh, looming as potential replacements. On Friday, some possible clarity emerged.
Yahoo Sports reports
that Bird is in fact planning to return for the 2012-13 season and that he has selected director of player personnel Kevin Pritchard for the GM position, replacing current GM David Morway.
As Larry Bird finalizes his deal to continue as Indiana Pacers president, he plans to elevate Kevin Pritchard to become the franchise's general manager, multiple league sources told Yahoo! Sports.

Pritchard has become a favorite of Bird's since his hiring as the Pacers' director of player personnel a year ago. Pritchard's promotion will spell the end of David Morway's successful tenure as GM, sources said.

Bird still has to finalize a deal with Simon for Pritchard's promotion to be made official.
Ken Berger of CBSSports.com
confirms the plan on Friday
, noting that Pritchard has withdrawn his name from consideration for the Orlando Magic's GM position due to his promotion with the Pacers. Pritchard served as GM of the Portland Trail Blazers before being fired by owner Paul Allen on the night of the 2010 NBA Draft. He reportedly had interviewed for the Toronto Raptors GM position before the 2011-12 season and had been mentioned as a candidate for the Magic's open GM position in recent days.
The
Indianapolis Star
reports
that the new-look front office is expected to take shape after Bird meets with Pacers owner Herb Simon "sometime next week."
The Pacers recently granted Morway the right to interview with the Blazers regarding their GM position, which was filled this week with the hiring of former Los Angeles Clippers executive Neil Olshey. Morway was officially promoted to Indiana's GM position in 2008 after spending more than 10 years with the franchise.
This game of musical chairs takes place after the most successful season in recent Pacers history. Indiana went 42-24 in the regular season and then sent home the Magic in the first round of the playoffs in five games. They then advanced to the Eastern Conference semifinals, where they were eliminated by the Miami Heat in six games. The Pacers hadn't advanced out of the first round of the playoffs since 2005.
Pritchard and Bird were briefly teammates on the Boston Celtics during the 1991-92 season.