NBA referee Greg Willard diagnosed with cancer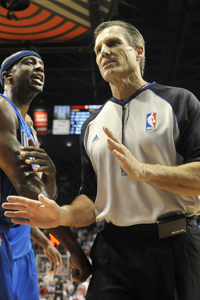 NBA referee Greg Willard has been diagnosed with cancer.
(Getty Images)
OKLAHOMA CITY -- Veteran NBA referee Greg Willard has been diagnosed with pancreatic cancer.
Willard, 53, last worked Game 4 of the Eastern Conference finals between the Miami
Heat
and the Boston Celtics on June 3. He was scheduled to work Game 6 of the Western Conference finals between the Oklahoma City
Thunder
and the San Antonio Spurs on June 6 but an alternate had to be used after he pulled out, citing an illness.
The NBA announced on Monday that its referees will wear Willard's number 57 on their uniforms during the 2012 NBA Finals to recognize him. Willard has worked 24 NBA seasons and has officiated more than 1,500 regular season games. He has also worked Finals games since the 2009-2010 season and has blown his whistle during 120 playoff games.
"Greg's professionalism and integrity have made him a role model within the NBA community," said National Basketball Referees Association General Counsel Lee Seham in a statement. "We want him and his family to know that our thoughts and prayers are with them."
The 2012 NBA Finals between the Thunder and the Heat begins on Tuesday night at Chesapeake Energy Arena.