Report: Jerry Sloan withdraws from Bobcats coaching search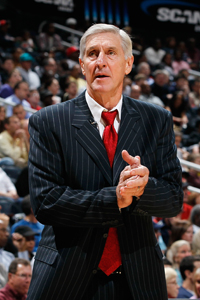 Jerry Sloan will not be coaching the Charlotte Bobcats.
(Getty Images)
It sounds like an NBA legend had second thoughts about a comeback.
Hall of Fame coach Jerry Sloan has pulled his name from consideration for the Charlotte Bobcats coaching search,
according to SI.com
.
"I took myself out today," Sloan said by phone. "I don't want to comment on it because it's never profitable for anybody. It just makes it sound like you're making a statement about someone. But they were wonderful and there were no problems. I just took myself out."
Sloan, 70, abruptly resigned from his position as coach of the Utah
Jazz
in 2011 after 23 seasons with the team. He did not coach during the 2011-12 season.
Sloan was reportedly one of three finalists for the Bobcats position, which became available when the team opted to part ways with former coach Paul Silas earlier this summer. The other two finalists: Indiana Pacers assistant Brian Shaw and Los Angeles Lakers assistant Quin Snyder. Other candidates, including former Portland Trail Blazers head coach Nate McMillan, were also considered.
The Bobcats are the definition of a rebuilding effort after finishing 7-59 during the 2011-2012 season, posting the worst record in the NBA and the worst winning percentage (.106) in NBA history. The team then missed out on winning the 2012 NBA Draft Lottery, which would have given them the opportunity to draft Kentucky big man Anthony Davis. Instead, the Bobcats hold the No. 2 selection.