EOB Roundtable: Finals adjustments, and in defense of Russell Westbrook

With the opening set of the 2012 NBA Finals having concluded and the series shifting to Miami for the pivotal Games 3, 4, and 5, our experts weighed in on where the series is at, what the biggest problems have been for both sides, and the always controversial Russell Westbrook.
Matt Moore: So that was a pretty fun 1-2 set in OKC. Both teams showed their strengths and weaknesses. I think you can reasonably argue the Thunder have outplayed the Heat over the majority of the minutes, but the Heat have played so well when they have played better, it kind of evens out.
What's been the biggest problem for both teams, in your mind, and is it something they can fix?
I feel like for Brooks, it's the interior defense. Ibaka keeps chasing as he is wont to do, and Perkins is just slow sometimes. They've done a really good job keeping Wade and James out of the paint in the fourth. But they've got to start doing that in the first half, consistently throughout the game.
For Miami, they need to get some offense from a few more guys.
Chris Bosh
isn't getting enough looks, I don't think, because
Shane Battier
isn't going to keep putting up double-digits. They need Chalmers and Bosh to create some points or they're not going to have enough artillery for this one.
Royce Young:
For Oklahoma City, the lineups are a major issue. I wrote about it after Game 2 and there have been quite a lot of smart NBA writers breaking it down today. Simply put: The Thunder are getting whipped when they play two big men.
The proof is in the Perkins: With both
Serge Ibaka
and
Kendrick Perkins
on the floor together, the Thunder are allowing 121 points per 100 possessions. That
stinks
. It's not just on Perkins, though. It's the combination. The reason it's easier to single out Perkins is because of what his specific value is. He's not nearly as versatile in the pick-and-roll or on the perimeter as Ibaka and
Nick Collison
.
The Heat are playing exclusively small with Shane Battier technically as the power forward. And he's punished OKC, hitting 5-of-7 from deep in Game 2 and 9-13 from 3 overall in the series. He's getting wide open looks, largely because OKC's bigs are losing him on the perimeter.
Now in Game 2, the Thunder were actually a +1 overall with Perkins as the lone big in their smallball lineup. Not bad. Good, even. But the issue was Scott Brooks was deploying that lineup with the Thunder trailing by 14 or 15 points. Once Collison entered as the big in the smallball group, OKC was a +8.
But I'm with you: The Thunder pretty much won Game 2 sans a horrific six minute stretch to begin the game. They tied the second quarter, won the third and won the fourth. The Heat have to be thrilled with the split, but they aren't free of issues. They got more out of
Dwyane Wade
and Chris Bosh, but probably not enough. And Battier's production likely isn't sustainable throughout the series. The Heat need more balance from their bench, which is nothing new.
Matt Moore:
I looked at the second half efficiencies, and the Thunder shot the lights out. No surprise here, they'll do that. They held Miami to a 101.2 defensive efficiency, which seems like it's good enough, but it obviously wasn't. They're going to have burst where they give up 110-plus. If they're going to play the "game of runs," they have to make sure those runs feature a sub-100 defensive efficiency. I don't think it's wise for OKC to just try to outscore Miami. They don't have to play lockdown, but they've got to get close to it for stretches.
One thing to counter-balance Battier, the Heat missed a number of good looks off the drive and kick, particularly Chalmers in Game 2. So some of this is going to even out. I wonder if Ibaka can keep scoring on non-dunk, non-mid-range-jumper shots (like the reverse layup). Clearly, both teams are going to have guys come back down to Earth. For OKC, it's a matter of who and how much.
I'm a little stunned that
Norris Cole
held his ground so well.
Royce Young:
Daequan Cook is an instant impact player. He can step in, hit a flurry of shots, and then step out. Thing is, the Thunder seem to prefer giving more minutes to Sefolosha and Fisher rather than bringing in Cook. Like you said, both teams need secondary production and wherever it comes from doesn't really matter.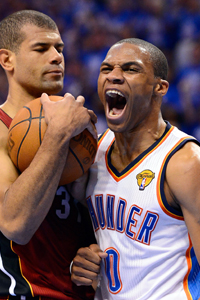 Let Westbrook be Westbrook.
(Getty Images)
I'd like to get your official take on Russell Westbrook's first two games, though. I think we're both generally in agreement that Westbrook shouldn't shoulder much, if any, blame for the Game 2 loss. Yes, he shot wildly at times. Yes, he was often out of control. Yes, he took four more shots than
Kevin Durant
. But this is Russell Westbrook. This is the player he's been all season long, the guy who has helped captain this young ship to within three wins of an NBA title.
And people want him to change now?
I understand the frustration some have with Westbrook, but it's as if they forget that he's a star in his own right. He doesn't score as beautifully or effortlessly or efficiently as Durant, but Westbrook's brute force is often a good counterbalance to Durant's methodical approach. I just don't see how people like Magic Johnson can say Westbrook's first half in Game 2 was the "worst" he's ever seen in the Finals.
Matt Moore:
It's really stunning to me because, honestly, Westbrook keeps them afloat in these games. He's been more consistent than Durant. He just hasn't been consistently efficient. I'm one of the biggest efficiency guys our there, but Westbrook's production is so good, not just for points, but rebounds, opportunities, and, yes, assists. I can't understand this approach to him.
Honestly, people just want Kevin Durant to shoot 28 times a game. And as you've written, that's not who Durant is; it'll never be him. They need someone who is constantly aggressive, and that's Westbrook. In the Thunder comeback, Westbrook created steals with his defense, covered for Durant on a wild reverse putting it back, and made the pass to him for the three at the end.
I've been saying this since the Finals started. He's the Thunder's
LeBron James
, the flip side of the coin. No matter what happens, if they lose, it's on him, no matter how his partner in crime plays. It's a shame we can't get past our outdated stereotypes of point guard positional play and alpha dog status nonsense to see that Westbrook would be Derrick Rose on another team.
Royce Young:
I have to give you props, because as much as I've watched and written about this Thunder team, the point of needing a constant attacking presence is something I've never really considered. Durant is a scorer but wants to always remain as efficient as possible. His dream game is 30 points on 15 shots. The Thunder's third scorer,
James Harden
, sometimes has to be forced into shooting himself.
Take away Westbrook and you might have a Thunder team that lacks that aggressive, attacking style that's done them so well. I mean, isn't Westbrook what so many want LeBron to be? Relentless, aggressive, constantly attacking. The lesson: People are idiots.
But as this series transitions to Miami, the Thunder are facing a harsh, sobering reality: They may have played their last home game. I doubt the Heat win three straight, but with the 2-3-2 format, it's certainly a possibility. OKC played a quality Game 1 and won because of terrific second half offense, but more so, splendid defense. Brooks and his staff need to rediscover that perfect medium between big and small, find minutes for Collison and get back to basics.