Rumor: Memphis could have interest in re-obtaining Pau Gasol?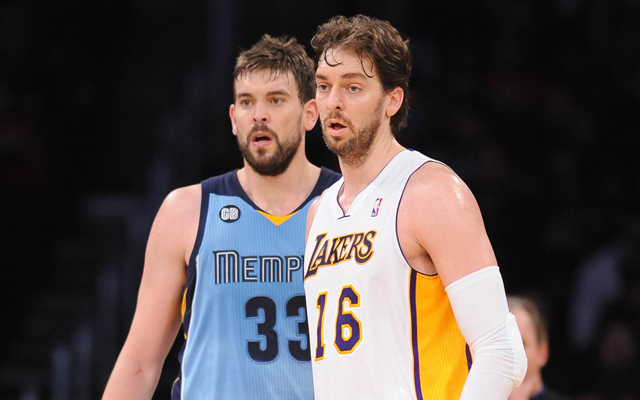 Could the Gasols be playing beside... no, just stop.
(Getty Images)
From your crazy trade rumor of the day secton comes this nugget from the New York Daily News:
The Lakers are committed to moving Pau Gasol — the fall guy for their second-round ouster against the Thunder and previous playoff failures — even if they have to take back less talent. As long as Heisley retains the Grizzlies, Memphis will always have interest. Heisley has always wanted to bring Gasol back, pairing him with his brother, Marc.
via For the NBA after the bitter lockout, all's well that ends well with LeBron James vs. Kevin Durant in Finals - NY Daily News.
So that's a little crazy, eh?
This is the kind of thing that you can tell was likely sourced from the Lakers side of things, to 1. increase value for Gasol on the market and 2. gauge reaction. Memphis would have two options for trading back for Gasol. One, they could send Rudy Gay, giving the Lakers a sub-elite wing on a massive contract as the Lakers try and limit their payroll in advance of the repeater tax going into effect in 2015, or they can package Zach Randolph, Marc Gasol, or a combination of the two for Gasol.
Gasol is arguably the best player of the four involved, but not for Memphis. Memphis' identity has been forged in toughness, grit, and defensive attitude, three things that the elder Gasol is, shall we say, not known for. It's not a bad thing, it's a stylistic thing. There's just no reason to bring Gasol in for Gay, since you'd be bringing in an older player who clashes with the two you already have on roster. There's no reason to trade Marc Gasol for his brother because the younger one does more of what the Grizzlies need. And there's no reason to trade Zach Randolph for Gasol because it's been his attitude and leadership that has helped the Grizzlies to legitimacy.
In short, this thing is bonkers. But the source is credible, and there's some truth to the elements around it. The Lakers are looking to target a new place for Gasol, and Rudy Gay may be the kind of player they're looking to get in return. Just don't count on seeing Gasol back in the baby bear blues anytime soon after he burned quite a few bridges with his exit with the fans.