Lakers' Jim Buss: Don't expect big changes for L.A.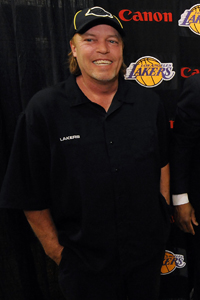 Jim Buss says everything's hunky-dorey with the Lakers' roster.
(Getty Images)
After the Los Angeles Lakers were eliminated by the Oklahoma City Thunder in the Western Conference Semifinals in May, there was talk of big changes coming to the roster. This organization, which does not rebuild, but reloads, would surely not settle for mediocrity and disappointment. It would trade Pau Gasol, or Andrew Bynum. It would acquire a superstar, or two. Surely, the Lakers would look much different in November than they did in April.
Well, not so much, says the guy in charge.
Jim Buss did an interview with the Los Angeles Times this week, and he says that if you're looking for a wholly different Lakers team next year, you're imagining things.
What are the chances of the Lakers starting the season with Bryant, Andrew Bynum and Pau Gasol all in Lakers uniforms?

"Very good," says Buss.

So you don't agree with those who say the Lakers must turn Gasol into two or three players via a trade?

"No," he says. "I think changes are going to be made moving Pau lower to the basket. We can improve that way with a change in coaching strategy rather than a change in personnel."
via Jim Buss says Lakers fans shouldn't expect major moves - latimes.com.
These are pretty standard comments, regardless of what the Lakers actually do. Should they move Gasol, it will be "we felt like this deal was too good to pass up." If they move on from Sessions, it will be "We felt we could win with (player X)."
But it's interesting that an organization as typically bold as the Lakers isn't calling its shot. They're not admitting that this team needs changes. Instead, they're saying they believe this team is a championship team. In a lot of ways, it is. Or it was, in 2010. But there are significant problems, now. Kobe Bryant is no longer able to carry the load. Andrew Bynum needs more touches. Gasol has seemed damaged since the 2011 series against the Mavericks.
They need another creator, they need another shooter, they need more offensive efficiency and consistency. Some of this can be fixed with a normal offseason, a normal training camp, and natural development.
Some of it can't.
We'll have to wait and see if Buss is good to his word. But if he is, something says that the fanbase, and Kobe Bryant, won't be satisfied.