2012 NBA Mock Draft 5.0: Falling into place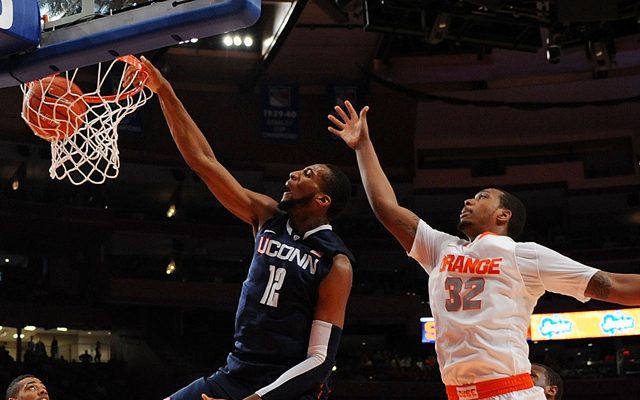 Would the Trail Blazers take a chance on another big man like Andre Drummond? (Getty Images)
NBA Mock Draft - 6/25/12
Round 1
1. New Orleans Hornets
Anthony Davis, PF/C, Kentucky: The Hornets didn't just strike gold in getting the No. 1 pick and Davis, they struck gold in getting a No. 1 pick that is a no-brainer. No second-guessing for them.
2. Charlotte Bobcats
Thomas Robinson, PF, Kansas: Robinson finished with a 27.4 PER last year. Now, the PER translation is far from perfect at the college level, but it's likely that any metric that evaluates production is going to involve the same elements as PER. Like, say, anything Rich Cho is using in his models. Kidd-Gilchrist is just about as likely here, but Robinson's slight production advantage lifts him.
3. Washington Wizards
Bradley Beal, SG, Florida: This fits perfectly together. It's a Lego pick, it just snaps together. Wall-Beal-Ariza-Nene-Okafor and the Wizards are a dramatically different team. If Beal goes No.2 in any scenario, it's going to make things messy for Washington.
4. Cleveland Cavaliers
Michael Kidd-Gilchrist, SF, Kentucky: All of your offensive rebounds, they belong to the Cavaliers, now. MKG needs to become the best dive-cutter in the league. If he does. Irving off the high pick and roll can slice and dice any defense.
5. Sacramento Kings
Harrison Barnes, SF, North Carolina: It's unlikley the Kings will hesitate on Barnes if he falls here, he fits the need and has been talked about as high as No. 2 overall. The Kings get the scraps of the clear top-five, but that's not always a bad thing. No matter what they get a talented prospect without having to justify the decision if it's wrong later. There's a clear gap between this pick and the rest. It should be noted that Barnes walked away from a workout with the Kings, which is either confidence from a top-four promise, or a tactic to make everyone think that. Yay draf time.
6. Portland Trail Blazers (from Brooklyn)
Andre Drummond, C, Connecticut: It's looking more and more likely that Portland will take the gamble here at No.6 with the ability to still get a quality point guard at No.11 still a strong possibility. In that scenario, Damian Lillard is the big fall man. Drummond pairs well with LaMarcus Aldridge, one of the few players in the draft who does, bringing the raw athleticism and size to pair with Aldridge's skill. Drummond's a risk for teams who need complete big men. The Blazers don't.
7. Golden State Warriors
Dion Waiters, SG, Syracuse: The Warriors want a veteran small forward here. But if they don't get one, taking Waiters makes the most sense. They like what they have in Klay Thompson enough to move him over to smal forward and have Waiters come in as a replacement for Monta Ellis. It gives them a scorer with absurd length and athleticism, someone who won't battle with Stephen Curry for shots.
8. Toronto Raptors
Damian Lillard, PG, Weber State: Lillard is a gift at the No. 8 spot, and gives the Raptors a fill for need, a high-value prospect, and a replacement for Jose Calderon. There should be very little hesitation here from Bryan Colangelo, but things will still have some tension should Austin Rivers still be available.
9. Detroit Pistons
John Henson, PF, North Carolina: The selection of Drummon early makes this easy. Henson pairs better with Monroe than any other center in the top 10 and gives the Pistons a big they don't have to develop for 3-4 years. This makes so much sense I'm positive it won't happen.
10. New Orleans Hornets (from Minnesota through L.A. Clippers)
Tyler Zeller, PF/C, North Carolina: The Hornets are reportedly high on Zeller, and it makes a lot of sense. You pair Zeller with Davis and you no longer need to retain Chris Kaman, or if you do, you don't need him long-term. You pair Davis' raw athleticism with a savvy player with skill, and you put him with a high character player.
11. Portland Trail Blazers
Austin Rivers, PG/SG, Duke: The versatility of Rivers to play either position is key here, because the Blazers have need at both. Rivers being able to provide scoring and conceivably run the offense (in a few years) gives them the ability to pursue a wing defender which is considerably cheaper to find and acquire than a scorer. If they can't, Wesley Matthews can fill in serviceably. This pick is a bit safer with Nate McMillan no longer there roaming scrimmages and leaving a path of destruction for point guards in his wake.
12. Milwaukee Bucks
Meyers Leonard, C, Illinois: With the Bucks likely to get priced out of Ersan Ilyasova, they can draft Leonard for pure size and move Ekpe Udoh to power forward. The backcourt with Brandon Jennings and Monta Ellis provides the scoring,the beasts down low provide the defense, and Luc Richard Mbah a Moute ties the room together.
13. Phoenix Suns
Kendall Marshall, PG, North Carolina: Just in case Nash doesn't return, or even if he does, Marshall provides both insurance and a plan for the future. Not super athletic, but able to make the right play, Marshall may have the best fit in Alvin Gentry's fast-paced system, and a positive environment like Phoenix fits him well.
14. Houston Rockets
Jeremy Lamb, SG, Connecticut: Let's assume they keep the pick. The natural selection is a big man. But with Moultrie too much of a project and Sullinger way more forward than center, this doesn't really accomodate the Rockets' needs. Hence the trade talks. But if they stay here, Lamb gives them the ability to move Kevin Martin's contract, who also struggled under Kevin McHale last season, and an athletic freak to get up and down the floor with whatever point guard they settle on.
15. Philadelphia 76ers
Arnett Moultrie, PF, Mississippi State: The Sixers are just happy there's a center left at this position. They quietly take their wares and go home, like a mother who found an acceptable cooking pot in the first bin she looked in at the flea market.
16. Houston Rockets (from New York)
Terrence Jones, PF, Kentucky: I know what you're thinking. Patrick Patterson. Marcus Morris. Surely, the Rockets won't take anouther player of this ilk. Well, he's arguably the best player available and brings with him the highest versatility. A lineup of Jones and Patterson would be a bit confusing for double vision, but it still makes the most sense of any player left.
17. Dallas Mavericks
Terrence Ross, SG, Washington: A different type of wing than they're used to, Ross will learn a lot under Shawn Marion and provide some length all over the floor. He'd fit best with a great scoring point guard, someone like Deron Willi.... you know what? Nevermind.
18. Minnesota Timberwolves (Utah)
Quincy Miller, SF, Baylor: Long, can shoot, and can run the floor. The kind of player Ricky Rubio can flourish with. The Wolves can hardly go wrong here, and Royce White is another option. But Miller spaces the floor better. Miller's a good pick for a team that can gamble, and the Wolves have that luxury.
19. Orlando Magic
Royce White, PF, Iowa State: White's potential is so high and varied that this almost is the safest pick available for the Magic. If they trade Dwight Howard, Perry Jones enters too tough of a situation, if they keep him, Jones doesn't get the ball enough with Ryan Anderson on board. White gives them muscle to pair with Ryan Anderson in unconventional lineups and quality toughness for a team that needs it.
20. Denver Nuggets
Perry Jones III, PF, Baylor: You've got two centers (provided they retain JaVale McGee) with raw athleticism and not a lot of skill. Jones gives you all that. The nurturing environment of the Nuggets gives Jones opportunities to show his talents without facing pressure to be the guy at any point, and if he rebounds aggressively, all the better. He and Manimal would fit very nicely together in small-ball lineups.
21. Boston Celtics
Jared Sullinger, PF, Ohio State: It's not that I believe Sullinger will fall this far, it's that given the other options available, I struggle with the other players not being selected first. Sullinger comes with so many questions, it just has to give you pause every place before the Celtics. Taken high, Sullinger may wind up being a devastating miss. Taken too low, as he is here, and he comes with everything to prove for a team ready to compete now.
22. Boston Celtics (From L.A. Clippers through Oklahoma City)
Evan Fournier, SG, France: The Celtics have been known to take some gambles on Euros and while they need immediate help, this pick doesn't represent a lot of risk. Fournier brings them worlds of upside at a position of need.
23. Atlanta Hawks
Andrew Nicholson, PF, St. Bonaventure: If Nicholson can get his drop-step hook to fall consistently in the pros, which is not a sure thing, he's going to come in with immediate impact. If not, he can still be a quality rebounder and a traditional big for a team that is short on them.
24. Cleveland Cavaliers
Tony Wroten, PG, Washington: The Cavs aren't looking for a backup point guard. But they're not not looking for a backup point guard, either. Wroten works as a combo guard, enabling him to spend some time on the floor with Irving, covering him defensively for the bigger point guards.
25. Memphis Grizzlies
Marquis Teague, PG, Kentucky: The Grizzlies are low on athleticism in their backcourt and Teague is all athleticism. With Conley installd, the Grizzlies are in no rush for immediate help, and this helps Josh Selby shift to a more comfortable position at combo guard.
26. Indiana Pacers
Fab Melo, C, Syracuse: The Pacers have a lot of bigs, but not much in the way of pure height and length. Melo gives them a center to develop behind Hibbert (should they retain him), and an awful lot of size now and in the future.
27. Miami Heat
Jeff Taylor, SF, Vanderbilt: It wouldn't hurt for the Heat to get some athleticism to replace a probably-retiring Mike Miller. Taylor's a gift here, and with Melo off the board, the remaining center class is weak.
28. Oklahoma City Thunder
Festus Ezeli, C, Vanderbilt: The Thunder aren't really looking to add to their core, but Ezili gives them a big they can send to Tulsa to develop and helps in the future when they need backup centers.
29. Chicago Bulls
Draymond Green, PF, Michigan State: Tom Thibodeau is going to love this guy, and he gives them a lot at areas of need, fits right in with the bench mob.
30. Golden State Warriors (from San Antonio)
Tyshawn Taylor, PG, Kansas: Taylor's actually a really high quality pick-and-roll guard, and with David Lee, he could flourish off the bench. Not a bad pickup behind Stephen Curry, especially given his overall conditioning.