Larry Bird out, Donnie Walsh in with Indiana Pacers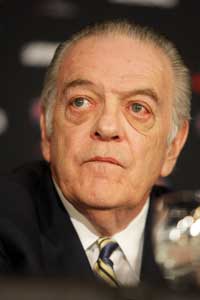 Donnie Walsh is reportedly headed back to Indiana.
(Getty Images)
UPDATE: Pacers owner Herb Simon has made the announcement official as Larry Bird has parted ways with the team.
---
The Indiana Pacers front office situation just drags on, and on, and on. But perhaps there will finally be some clarity on Tuesday.
After word broke on Monday that former Pacers executive Donnie Walsh would be back in the fold, heading up the team's summer free agency efforts, the Indianapolis Star reports that Pacers president Larry Bird will hang it up.
Larry Bird has decided to call it quits as president of the Indiana Pacers.

Bird is "100 percent sure" he will not return as president of the team, a person with direct knowledge of the situation told The Star on Monday.

Bird, 55, is expected to meet with owner Herb Simon today to finalize his departure.
Bird's departure doesn't come as a surprise -- indeed, Ken Berger of CBSSports.com reported that he would leave back in April -- but there has been plenty of waffling before he made it official.
The exact title that Walsh will take is still unclear, as is who will serve as the team's GM. Reports in recent weeks indicated that director of player personnel Kevin Pritchard, formerly GM of the Portland Trail Blazers, could take over the title from David Morway. The New York Daily News reported on Monday that Morway hasn't been around the team in recent weeks.
This one is pretty simple: if you have to lose a living legend like Bird, you might as well replace him with another one. However the Pacers resolve their front office organization, no one who remains standing will be complaining that a man of Walsh's experience and reputation is back in the fold.