Report: Clippers and Mavericks talking Lamar Odom trade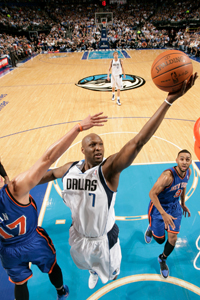 Lamar Odom never worked out in Dallas.
(Getty Images)
Lamar Odom could be heading back to where he had his best days in the NBA, where he won Sixth Man of the Year and championship rings. He could be headed back to Staples Center, back to Los Angeles.
To play for the Clippers though. Not the Lakers.
According to ESPN.com, the Clippers are engaged in trade discussions to bring Odom back to the franchise that drafted him.
The Los Angeles Clippers have engaged in trade discussions to bring Lamar Odom back to the L.A. team that drafted him, according to sources close to the situation.

Yet the deal, sources said, could hinge on the willingness of a third team to take on the contract of Clippers veteran guard Mo Williams, which would allow the Dallas Mavericks to send Odom to the Clippers with no significant money coming back to the Mavericks.
The Mavericks are very motivated to move Odom as Friday marks the last day he can be bought out for $2.4 million. Though there are reportedly discussions between Odom's agent and the Mavs about moving that deadline back while they search for a trade partner.
What the Mavs want is to not have to take on any money in a deal moving Odom as they have manuevered for financial flexibility this offseason to make a push for Deron Williams. Taking on money complicates that so as the report notes, a third team could be key to a deal getting done. Dallas could save a little money in trading Odom rather than just straight buying him out, but whatever the case is, he won't be a Dallas Maverick much longer.
If the Mavs can't find a suitor via trade, they're expected to finalize a buyout for Odom which would make him a free agent for other teams with a full mid-level exception (i.e. New York and Miami) to pursue.
Odom's stay with the Mavs turned to be disastrous after he was traded by the Lakers to Dallas. He seemed to lose some of his passion for the game, eventually being sent to the D-League after taking a leave of absence from the team. Before the postseason, Odom was place on indefinite leave and was removed from the bench in a mutual agreement.
A move back to Los Angeles could help Odom rediscover himself as a basketball player and allow him to continue with his offcourt interests.
Odom was drafted by the Clippers in 1999.