Rockets trade Samuel Dalembert and 14th pick to Milwaukee for 12th pick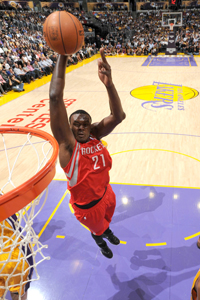 Samuel Dalembert is taking his talents to Milwaukee.
(Getty Images)
The Rockets keep on moving up, keep on acquiring more assets.
According to multiple reports and confirmed by Ken Berger of CBSSports.com, the Houston Rockets have traded center Samuel Dalembert and the 14th pick to Milwaukee for the 12th pick, Jon Brockman, Shaun Livingston and Jon Leuer.
The Rockets now own the 12th, 16th and 18th picks in Thursday's draft. They acquired the 18th pick Tuesday in a trade that sent Chase Budinger to Minnesota.
Clearly the goal for Houston is to build a substantial package to either acquire a big name (i.e. Dwight Howard or Pau Gasol) or move into the lottery. The Rockets are piling up assets for a bigger picture move, it seems.
General manager Daryl Morey has been on the prowl for a building block player for a couple years now and thought he had it in the original three-way Chris Paul trade that sent Gasol to Houston. After the deal was vetoed, it sent the Rockets back to the drawing board. They are said to have great interest in talking a deal for Howard, except according to reports, Howard has no interest in signing long-term in Houston.
As for the pieces they've received in the deal -- Brockman, Leuer and Livingston -- it would seem that the three aren't too much more than trade fodder. Leuer was drafted by the Bucks in the second round last season and hasn't received much of a look as of yet. And the Rockets have seemed to be an organization with a keen eye for overlooked talent.
The Bucks were looking for a player to put in the middle after dealing Andrew Bogut to Golden State at the deadline last season. Dalembert has only $1.5 million guaranteed on his $6.7 million expiring contract, but Berger says according to his sources, Milwaukee is expected to keep him