Magic extend Ryan Anderson a qualifying offer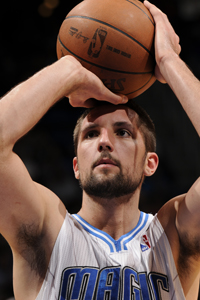 Ryan Anderson is about to get paid.
(Getty Images)
It tends to work this way: Step 1) Win Most Improved in the NBA; Step 2) Prepare for a payday.
The Orlando Magic have extended Ryan Anderson a qualifying offer, making him a restricted free agent. You could file this one under: "It would've only been surprising if they didn't do it."
The Magic have a new general manager in Rob Hennigan and one of his first roster moves was an easy one. Off to a good start, Rob!
Since the Magic extended the qualifying offer prior to the June 30 deadline, Orlando owns the right to match any offer sheet he may sign with another team. Anderson will become a restricted free agent on July 1.
In CBSSports.com's Top 40 Free Agent Rankings, Anderson is eighth. Ben Golliver says this:
Anderson, 24, had a career year, scoring 16.1 points and shooting 39.3 percent from deep, winning the NBA's Most Improved Player award. He fizzled a bit against the Indiana Pacers in the playoffs, though, which cut into his offseason buzz. After acquiring him as a trade throw-in, the Magic, even under new management, are surely highly motivated to retain him through to his prime.
Anderson's career year means he's a valuable target on the market this offseason, but also something the Magic probably feel they can build around. What's his value? Three years, $30 million? Too much? Not enough?
Whatever it is, Anderson is set to get paid. He's a solid rebounding power forward that has a velvet touch from 3. That equals dollar signs.