2012 NBA Draft Report Card: Grading every pick for every team
Anthony Davis became the Hornets' new franchise player, the Bobcats stayed with No. 2, and Perry Jones III slid and slid. The 2012 NBA Draft concluded Thursday night, and here are the grades for the teams and who they chose.
New Orleans Hornets

Anthony Davis (1): The ultimate no-brainer. Davis could be a franchise player and will certainly become a dominant force on the defensive end. He's also far more skilled on the offensive end than many realize. The Hornets get a potential superstar and face/cornerstone of their franchise.

Austin Rivers (10): The Hornets already have Eric Gordon, but Rivers gives them more scoring punch. He's got no shortage of confidence and can get to the basket and finish.

Darius Miller (46): Kentucky's sixth and final selection of the night fell to the middle of the second round, but he can be a quality role guy due to his ability to make shots and also defend.

GRADE: A
Charlotte Bobcats
Michael Kidd-Gilchrist (2): The Cats took a great player with excellent motor who is an athletic freak and has excellent work ethic. So why did they wind up with a B-? MKG fills a need for the Bobcats, especially after the trade of Corey Maggette for Ben Gordon. But with limited ability to score on his own, and with so many needs, you have to wonder if a trade down wouldn't have been better for the franchise.

Jeffery Taylor (31): Athlete at a discount. Taylor fell out of the first round and the Bobcats were there to catch him. They need talent. He has talent. Great get.
Overall grade: B-
Washington Wizards

Bradley Beal (3): Ideal fit alongside John Wall and a smooth wing who can make shots from the perimeter. Beal is solid in just about every phase of the game and will fill a major need for the Wizards and give the team a terrific young backcourt.

Tomas Satoransky (32): He's a long combo guard without much athleticism. Not sure where he fits in on the Wizards roster.

GRADE: A-


Cleveland Cavaliers
Dion Waiters (4): ... Why? I mean, it's fine, but... why? The Cavaliers are building a very good team behind Kyrie Irving and could have added Thomas Robinson or Harrison Barnes. But instead, they take Waiters, who did not start this season, who did not work out for teams, and who isn't going to bring the polish they need beside Irving.

Tyler Zeller (17): A decent pick, allows for Tristan Thompson to either develop or play next to him. Zeller's height will be a bonus, and this is a great value pickup at 17. Helps the team and a good player.

Overall grade: C+
Sacramento Kings

Thomas Robinson (5): T-Rob is a relentless rebounder who slid a few spots, but will give the Kings another force up front to pair with DeMarcus Cousins. Robinson is a man who can step in immediately and make an impact on the glass. This was a terrific get for Geoff Petrie, one of the best drafters in the NBA.

GRADE: A+

Portland Trail Blazers

Damian Lillard (6): The best point guard available at the sixth spot, fills a big need and doesn't overlook a bigger one. The Blazers landed their franchise point guard, even if he's not in that elite class, and didn't have to go up or down. And they avoided Andre Drummond. Bonus!

Meyers Leonard (11): Fits snug as a bug with LaMarcus Aldridge, and can get up and down the floor. A great fit with Lillard and fills in their roster.

Will Barton (40): Why not pick up the firebug and see if it works out? The Blazers have some depth at a position of need quickly.

Overall grade: A
Golden State Warriors

Harrison Barnes (7): He slipped a bit and may be considered somewhat one-dimensional as a perimeter shooter, but Barnes should be more effective in the NBA due to an extended 3-point line and increased spacing. Barnes also addresses a need -- a long wing who can really make shots from deep.

Festus Ezeli (30): A solid backup big man who can physically handle himself in the NBA immediately. He won't give Golden State much offense, but he's big, strong and athletic. He can provide a quality big man off the bench.

Draymond Green (37): Fell out of the first round, but he'll make the team and find a way to get in the rotation. Doesn't necessarily look the part, but does everything fairly well and is a high-character, high-intangible guy.

Ognjen Kuzmic (52): Seven-footer who played in Spain and has good size and mobility. Who knows if/when we'll ever see him in a Warriors uniform.

GRADE: A-

Toronto Raptors

Terrence Ross (8): It's a reach, there's no question. But Jeremy Lamb's not really a small forward, and Harkless was more of a reach. Ross fills the need and shoots, the weakness in DeRozan's game. It's a good fit, even if it's a bit early. Moving down would have raised the grade.

Quincy Acy (37): They love hard-hustling guys in Toronto, and that's Acy. We'll see if he can convert it to production. They loved Reggie Evans who was similar.

Tomislav Zubic (56): When he wins the Raptors a title, the headline will be "Zubic circonium!," right?

Overall grade: B
Detroit Pistons

Andre Drummond (9): He's so talented, so physically gifted, but Joe Dumars needed more of a sure thing. Drummond is a nice kid -- too nice. He doesn't play with much intensity, hasn't developed any low-post moves and has a mediocre basketball IQ. I hate to kill this pick because, again, Drummond is a high-character kid. But this was a major risk, even at number nine.

Khris Middleton (39): Solid pick for Dumars; Middleton is a skilled wing who can shoot it from the perimeter.

Kim English (44): Has size and can shoot the ball from the perimeter. Quality selection in the middle of the second round.

GRADE: D+

Houston Rockets

Jeremy Lamb (12): Kevin Martin bristled with Kevin McHale, and could be on his way out. If the Rockets are keeping their picks including Lamb, then they got an athletic two who can run the lane. He might have been there later, and there may have been more daring picks to take. Not bad, though, by any means.

Royce White (16): Super high upside pick at a nice decent spot. No big reach, no huge downside at this spot. White can be dangled as a carrot for several teams, and brings a lot to the Rockets if he stays. Terrific pick.

Terrence Jones (18): Another high upside pick at a decent spot. Not going to shoot the lights out, not going to blow you over with work ethic, but killer athleticism. Question is, does he replicate Patrick Patterson too much and does he bring anything new to the Rockets?

Overall grade: C
Milwaukee Bucks

John Henson (14): He's long and can block shots, but we're not sure he fits in Milwaukee. The Bucks took a long forward a couple years ago in Larry Sanders and had a need for a big wing. Henson is physically weak, is limited offensively and didn't address John Hammond's most glaring need.

Doron Lamb (42): Lamb slipped into the middle of the second round, but should make the Bucks roster due to his ability to shoot the ball and versatility to play either backcourt spot. This was a nice pickup at this late juncture.

GRADE: C-
Philadelphia 76ers

Moe Harkless (15): This was somewhat baffling because the Sixers have guys at his position -- Andre Iguodala and Thaddeus Young. Harkless is young and will take some time to develop, but he's got a chance to be a quality starter in the league. He's long, rebounds well and can also get to the basket and finish. He can be brought along slowly, but the reward could be tremendous.

Arnett Moultrie (27): The 76ers needed a big man with the potential loss of Lavoy Allen and they were fortunate that Moultrie, who has no shortage of off-court question marks, was still on the board at 27. Moultrie's major strength is his ability to rebound -- and that's what Philly needs. Moultrie also possesses a decent skill level, but he'll get on the court due to his ability to get things done on the glass.

Justin Hamilton (45): The big man started his career at Iowa State, transferred to Iowa State and has the ability to step out and make shots from the perimeter.

GRADE: A-

Phoenix Suns

Kendall Marshall (13): Good fit and bad fit. The system fits Marshall well, allowing his pure passing skills to distribute across the floor in transition. He doesn't need athleticism to convert in that system, you need Marshall's skills. But there isn't enough talent on the Suns to justify a pure floor general who can't create on his own.

Overall Grade: C-

Orlando Magic

Andrew Nicholson (19): Nicholson is a great pick for most teams. But realize that the Magic's frontcourt rotation is now Dwight Howard (for now), Ryan Anderson, Glen Davis, and Andrew Nicholson. How does that fit together at all? His release point is slow and the Magic needed to hit something deep to get a head start on rebuilding, or building around Dwight. Good player. Still a miss.

Kyle O'Quinn (49): No real downside here, and you can't point to many better behind him. Maybe the last value pick.

Overall grade: D

Denver Nuggets

Evan Fournier (20): It's a little odd, seeing the Nuggets traded for another versatile wing when they have Danilo Gallinari, Wilson Chandler and Jordan Hamilton. Stockpiling assets is only valuable if you eventually do something with them.

Quincy Miller: All the athletic small forwards, Denver has them.

Izzet Turkylmaz: Seven feet tall. So he's got that going for him.

Overall Grade: D
Boston Celtics

Jared Sullinger (21): The concerns regarding his back injury were the primary reason why he fell out of the lottery, but this was a terrific pick for Danny Ainge and the Celtics. He may never be a star in the NBA, but he'll help Boston in an area of major need: Rebounding. Sullinger will never be an above-the-rim athlete, but he's skilled, has a high IQ and can be a solid player at worst-case scenario.

Fab Melo (22): The Celtics played Ryan Hollins and Greg Stiemsma in the playoffs at the center spot. Melo isn't ready yet, but he can certainly be an upgrade to that duo. Melo has size and athleticism and will give Boston someone who can rebound and alter shots.

Kris Joseph (51): The former Syracuse forward can score and could make the Celtics due to his length and ability to shoot it from deep.

GRADE: B+

Memphis Grizzlies

Tony Wroten (25): Goodman hates the pick, Moore likes it fine. So it's just "OK." Wroten isn't a shooter, their biggest need, and may not be able to run an offense. But he's athletic, can pass, and get to the rim. That's what the Grizzlies need off the bench, and his versatility at playing either guard spot is key with O.J. Mayo's likely departure.

Overall Grade: C
Atlanta Hawks

John Jenkins (23): The best pure perimeter shooter on the board, this was a reach from new general manager Danny Ferry. Jenkins is one-dimensional and doesn't do much else besides shoot the ball. He's a below-average defender and can't do much off the dribble. He could be effective on the court with four studs, but it's unlikely that'll be the scenario. This was a sup-bar pick to open the Ferry Regime in Hotlanta.

Mike Scott (43): Skilled forward who had a terrific season for Virginia last season, but it's difficult to imagine him getting on the court for any meaningful minutes in Atlanta.

GRADE: C-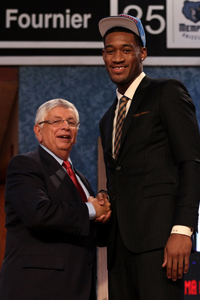 Perry Jones III tumbled a long way in the draft.
(Getty Images)


Oklahoma City

Perry Jones III (28): Jones fell even harder than expected, to the very precipice of the first round. And all of a sudden, what would have been a terrible pick in the low teens is a great pick for Presti at 29. That's how it goes. Jones gives the Thunder exactly what they need in the frontcourt, an athletic scorer, Serge Ibaka through the looking glass. Great pickup for OKC at such a low risk with this pick.

Overall Grade: A-
Dallas Mavericks

Jared Cunningham (24): He's a terrific athlete who has the ability to be a lock-down defender, but there are serious questions whether he can run a team as a point guard and also whether he can make enough shots to play the off-guard spot. He rarely played the point in his career at Oregon State. This was a risk for Donnie Nelson and the Mavs.

Bernard James (33): Big, strong, physical rebounder who is mature after spending time in the military prior to his time at Florida State.

Jae Crowder (34): Junkyard dog who doesn't have a defined position, but will find a way to get onto the court.

GRADE: C-


Chicago Bulls

Marquis Teague (29): The Bulls get another Calipari point guard. They could use a shooter, but weren't going to get one this late at a position they need, and Teague gives them pure speed on the bench. His kind of athleticism is hard to find, and the Bulls get him late.

Overall grade: B
Indiana Pacers

Miles Plumlee (26): The eldest Plumlee looks the part. He's big, strong and ultra-athletic. He is a beast in practice, but looks like a different player when it's game time. He could be a serviceable backup center, but is that what you shoot for with the 26th overall pick? I'm not sure whether it was Larry Bird, Kevin Pritchard or Donnie Walsh who made this pick, but it was underwhelming.

Orlando Johnson (36): Started his career at Loyola Marymount, but transferred and thrived at UC Santa Barbara. Wing who could stick on the Pacers roster, but will likely be a role guy at best.

GRADE: D+
New Jersey Nets

Tyshawn Taylor (41): Taylor could have easily been a late first-rounder. He's fast, tough and can guard. He can certainly battle with Jordan Farmar for minutes.

Tornike Shengalia (54): Tough, athletic forward from Georgia plays hard.

Ilkan Karaman (57): Solid forward out of Turkey. Not much more we can say.

GRADE: B+


Los Angeles Clippers

Furkan Aldemir (53): Well, you know, if that Griffin guy doesn't work out...

Overall grade: NA


Utah Jazz

Kevin Murphy (47): He can get buckets. Which is nice, because he'll be fetching lots of container items, like, say, bags, wherever he goes.

Overall grade: NA


New York Knicks

Kosta Papanikolaou: Sometimes, these things just write themselves.
Overall grade: NA
San Antonio Spurs

Marcus Denmon (59): A fast, athletic guard who will develop in the Spurs' system in Austin. Denmon has a lot he can bring to the floor. It'll just probably be in Europe. But the Spurs have surprised us before.

Overall grade: NA
Los Angeles Lakers

Darius Johnson-Odom (55): DJO has a chance to stick due to his ability to score the ball and his toughness.

GRADE: B+
Minnesota Timberwolves

Robbie Hummel (58): I'm done crushing T'Wolves GM David Kahn after this pick. Hummel will find a way to make the team and contribute.

GRADE: A+